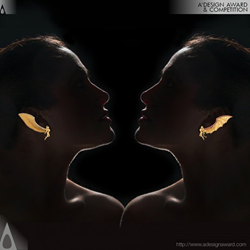 Como, Italy (PRWEB) September 09, 2013
A' Design Award and Competitions are proud to announce that the work Angels or Demons by Samira Mazloom has won the prestigious Golden A' Design Award at Jewelry, Eyewear and Watch Design Category and marked as one of the winners by the transnational judging committee of the A' Design Award & Competition among numerous works.
Regarding Angels or Demons
The idea of designing Angels or Demons based on the international recognition of the concept of duality in human nature since people witness the constant battle between good and bad, darkness and light, day and night, chaos and order, war and peace, hero and villain every day. Regardless of religion or nationality, many people have been told the story of human companions: an angel sitting on the right shoulder and a demon on the left. The angel persuades us to do good things while the devil keeps record of the bad deeds. Due to the unique shape and size of the earrings many changes have been done to the initial design to improve it is quality and appearance.
To learn more and download high-resolution photos, please visit: http://www.adesignaward.com/design.php?ID=25504
Project Members for Angels or Demons
Angels or Demons was conceived by Samira Mazloom, Alireza Hamidian and Yasmin Mazloom.
The Golden A' Design Award
The Golden A' Design Award is a prestigious award given to top 3% percentile designs that has attained an exemplary level of quality in design. The designs are judged by a panel of three different jury which is composed of Academic, Professional and Focus Group Members. The designs are evaluated with score normalization to remove any biases and are voted on aspects such as functionality, ergonomics, engineering, presentation, innovation, usability, fun details, technology, and any other specific points that could be considered, each of these points are further weighted for different jury groups.
About A' Design Award and Competitions
A' Design Award and Competitions, aims to highlight the excellent qualifications of best designs, design concepts and design oriented products. A' Design Award and Competitions are organized and awarded annually and internationally in multiple categories to reach a wide, design-oriented audience. Learn more: http://www.whatisadesignaward.com