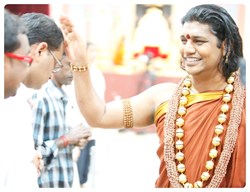 L.I.F.E - Life is for Enriching!
Los Angeles, CA (PRWEB) September 11, 2013
On August 28, 2013, The U.S. Court of Appeal of The State of California, Fourth District (Division Two) gave its final irrevocable decision beyond the scope of appeal (E058153) in the false case filed by Vinay K. Bharadwaj, the false victim who laid false claims of unnatural sex abuse against Sri Nithyananda Swami. In a reiteration of its earlier ruling as well as appeal on the ruling, the Hon'ble Court gave the final decision in Vinay K. Bharadwaj's motion to reopen his already dismissed appeal on July 30, 2013. The court concluded, "...appellant has failed to show good cause for vacating the dismissal."
Case History
· November 26, 2012 - the Superior Court of the State of California in the County of San Bernardino, headed by Honorable Judge Keith D. Davis, DISMISSED with prejudice, the entire civil case (CIV RS 1013793) filed by Vinay K. Bharadwaj against Sri Nithyananda Swami, Nithyananda Foundation and others.
· July 30, 2013 - The U.S. Court of Appeal - Fourth District DISMISSED Bharadwaj's appeal in its entirety of the above mentioned civil case.
· August 28, 2013 - The U.S. Court of Appeal - Fourth District DENIED Bhaaradwaj's request to reopen his defunct appeal.
About His Holiness Paramahamsa Nithyananda:
His Holiness Paramahamsa Nithyananda revered as a living divine incarnation by millions worldwide, is the 44th pontiff of the Mahanirvani Peetha, the most ancient apex body of Hinduism, as well as the 293rd pontiff of the Madurai Adheenam, the oldest monastery. He is the most watched spiritual teacher on YouTube with over 16 million views, and the author of more than 200 books published in 26 global languages. His talks are telecast live everyday on multiple international television channels, two way video conferencing and Internet. Nithyananda has been named among the world's top 100 most spiritually influential personalities of 2012. He is a world-renowned spiritual healer as well as scientist who has successfully demystified the yogic sciences like kundalini awakening, levitation, materialization, anti-ageing, etc.