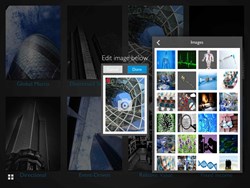 New York, NY (PRWEB) September 12, 2013
StoryDesk, the interactive presentation platform for iPad, today launches a new, free version of its enterprise-focused sales and marketing app. With this release, StoryDesk introduces new to world functionality: touch-interactive, non-linear, multimedia iPad presentations that can be created directly on the device and published to a distributed sales team.
For B2B marketers, this release addresses a mission-critical challenge:
How to provide sales collateral that leverages the sophistication and interactivity of software (rather than slideshows), but still offers the flexibility for self-managed updates – whether from headquarters or from an airplane.
Most interactive sales and marketing apps are custom built at a cost of $50,000+ and require a developer to make content changes.
But with 94% of the Fortune 500 and 75% of the Global 500 deploying iPads, businesses large and small seek flexible apps that leverage the tablet's unique capabilities. Sales and marketing teams are the leading users of iPads in enterprise.
Today's announcement makes it even easier for mobile workforces to leverage iPad as a revenue driver and productivity tool.
"Interactive presentation content helps our clients sell more effectively. As the iPad begins to replace laptops in the field, offering local editing tools is a real win for the mobile workforce," said StoryDesk CEO Jordan Stolper.
About StoryDesk:
StoryDesk is iPad presentation software for enterprise. Our app helps marketers and sales teams create interactive, centrally managed, and secure presentations that close business. Our clients include some of the world's most respected B2B and B2C brands, including: HUGO BOSS, Ralph Lauren, BBC, CBRE, Cargill, and CA Technologies. For more information, or to create your own interactive iPad presentation, please visit StoryDesk.com. Follow the story @StoryDesk.