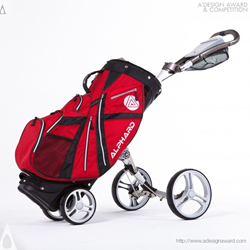 Como, Italy (PRWEB) September 10, 2013
A' Design Award and Competitions are proud to announce that the project Alphard Duo Golf Cart by Alex Tse, Constantine Tse, Michael Potempa, Gijs Budel and Emily Cheng became a winner of the renowned Golden A' Design Award in Sports, Entertainment and Recreation Equipment Design Category marked as one of the winners by the respected arbiters of the A' Design Award & Competition within numerous participants.
Details of Alphard Duo Golf Cart
For years, golf bags and push carts come in separate pieces. The concept of integrating the golf bag and push cart could greatly improve convenience and on course performance if done right; a few have attempted but the results are far from ideal. Duo Cart by Alphard Golf is the first to make it fast, simple and practical, along with an appealing look. The Duo Cart is redefining compactness and convenience for golfers who like to walk the course and hopefully it will encourage more golfers to walk and enjoy the game benefits. After all, walking is how the game should be played.
To learn more and download high-resolution photos, please visit: http://www.adesignaward.com/design.php?ID=26546
Creative Team for Alphard Duo Golf Cart
Alphard Duo Golf Cart was concieved by Alex Tse, Constantine Tse, Michael Potempa, Gijs Budel and Emily Cheng
The Golden A' Design Award
The Golden A' Design Award is a prestigious award given to top 3% percentile designs that has achieved an exemplary level of quality in design. The designs are judged by a panel of three different jury which is composed of Academic, Professional and Focus Group Members. The designs are evaluated with score normalization to remove any biases and are voted on aspects such as functionality, ergonomics, engineering, presentation, innovation, usability, fun details, technology, and any other specific points that could be considered, each of these points are further weighted for different jury groups.
About A' Design Award and Competitions
A' Design Award and Competitions, aims to highlight the excellent qualifications of best designs, design concepts and design oriented products. A' Design Award and Competitions are organized and awarded annually and internationally in multiple categories to reach a wide, design-oriented audience. To learn more, visit: http://www.whatisadesignaward.com