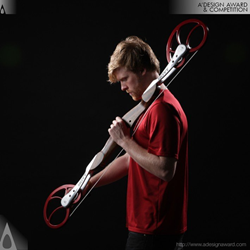 Como, Italy (PRWEB) September 11, 2013
A' Design Award and Competitions are proud to see that the design Hoyt Techniq by Patrick Mulcahy has been awarded with the renowned Golden A' Design Award at Sports, Entertainment and Recreation Equipment Design Competition marked as a winner by the transnational jury members of the A' Design Award & Competition within numerous works.
More on Hoyt Techniq
The brief was to create a consumer product around the sport of Olympic archery. Research showed current trainers are made with resistance bands losing tension and inaccurately imitating the physics or weight of an actual bow. Hoyt Techniq trainer can be attached to any customized handle with the universal limb attachment system. It can be used by all ages or physique variations with the 20-60 lb draw weight adjustment; the adjustment can also be used for recovering injuries. It is indoor safe with the inclusion of a suppressor that accounts for the torsion spring retention after releasing the string.
To learn more about the award winning design, please visit: http://www.adesignaward.com/design.php?ID=28730
The Golden A' Design Award
The Golden A' Design Award is a prestigious award given to top 3% percentile designs that has carried out an exemplary level of sublimity in design. The designs are judged by a panel of three different jury which is composed of Academic, Professional and Focus Group Members. The designs are evaluated with score normalization to remove any biases and are voted on aspects such as functionality, ergonomics, engineering, presentation, innovation, usability, fun details, technology, and any other specific points that could be considered, each of these points are further weighted for different jury groups.
About A' Design Award and Competitions
A' Design Award and Competitions, aims to highlight the excellent qualifications of best designs, design concepts and design oriented products. A' Design Award and Competitions are organized and awarded annually and internationally in multiple categories to reach a wide, design-oriented audience. Learn more: http://www.whatisadesignaward.com