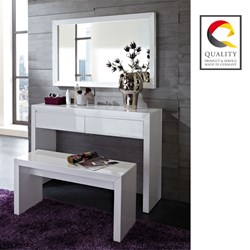 (PRWEB UK) 10 September 2013
Bluefin Group, which offers professional insurance and management advice, bought Fino Dressing Table from FurnitureInFashion. FurnitureInFashion is a renowned furniture manufacturing company with a wide variety of stylish furniture and interior fittings for all needs and purposes.
Their dedication to quality and durability makes their products a must for everyone interested in style and fashion. Fino Dressing Table is part of a set which can be matched with a 4 door display cabinet and also with a wall mirror.
FurnitureInFashion offers fast delivery and very cost effective items for every household and office premises. FurnitureInFashion deals with all kinds of furniture items from bedroom sets to bathroom fittings and office's furniture to furniture items for hotels.
The Fino Dressing Table, Console Table (3401-84): 120 cm x 40 cm x 83 cm and Bench (3400-84): 90 cm x 35 cm x 46 cm, has a modern design with high gloss varnished surface for smooth look and beauty. The table has two drawers and a bench which can be placed under the table and thus is very handy and requires very little space. It has ample space to store items and also a wide surface to display different things on the table. Quality furniture that is simple yet functional. It is an excellent solution to any bedroom or office requirements and is available at very affordable price.
A spokesperson from Bluefin Group said, "We cater for some extremely high end customers and for this purpose, our office premises are designed to give a sense of professionalism and comfort with style. We provide insurance advice and management solutions for professional clients with over 1500 employees; we are one of the leading financial organizations in the world. We were planning to add a table in our foyer to display magazines and flowers. We bought this beautiful table to add elegance to our foyer and sleekness to our décor. We are highly appreciative of the fact that FurnitureInFashion delivered as they promised and their product is a welcoming addition in our office."
The CEO and Managing Director of FurnitureInFashion said, "We believe in providing the best possible customer care and prompt delivery. Our products are also very cost effective and the price range is ideal for private clients as well as professional buyers and this is the reason that we are favourite among the interior decorators and the home owners. We are well versed in the quality German furniture and our products are time tested. We have countless happy customers who visit us time to time for more of our products. We want to make sure that the good reputation which we received over the passage of time is always well earned. It is the hard work of our team which enabled us to be here today and we vow to keep providing our clients with the new and stylish furniture and home improvement items."
To have a look at quality affordable furniture online and to place a pre-stock order, please visit the company website today at http://www.furnitureinfashion.net. The range of home and office furniture on the website is huge, delivery is fast, savings are massive and quality is guaranteed.
About FurnitureInFashion
FurnitureInFashion is a UK-based online retail business. It supplies furniture from its German-based warehouse and has a showroom in Bolton, UK. The company provides everything from umbrella stands, wall art and room dividers to bedroom suites, bar stools and computer tables. FurnitureInFashion offers free delivery within the UK and is rightly proud of its excellent customer service. For further information and details about sales, please visit http://www.furnitureinfashion.net.