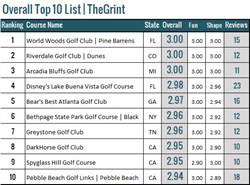 Miami, FL (PRWEB) September 11, 2013
The wait for unbiased golf course reviews is over as TheGrint Golf Handicap Tracker reveals the Top Ranked Golf Courses in the US. After gathering more than 30,000 unbiased reviews from regular golfers, TheGrint expects to provide golfers with a good way to decide where to play their next round.
Finding great golf courses has always been a struggle for golfers. Mainly because the rankings are typically biased or sponsored, and most importantly are made by critics and not regular golfers. TheGrint gather golf courses reviews through its mobile app and website right after the golfer played the golf course and posts a score.
The article "Top 10 Golf Courses in the US" reveals not only the top 10 US golf courses, but also gives Top 20 lists for California, Florida, New York (&New Jersey) and Illinois.
The top ranked golf course was "World Woods Golf Club | Pine Barrens" in Brooksville, FL. The second spot went to "Riverdale Golf Club | Dunes" in Brighton, CO. And the third place went to "Arcadia Bluffs Golf Club" in Arcadia, MI.
Other notable shows were "Bethpage Black" in 6th place, "Spyglass Hill" in 9th place and "Pebble Beach" in 10th place.
The company also announced plans to redesigned its website to show these rankings in a way that golfers will be able to see rankings more relevant to them. They will be able to filter the rankings to show specific states, cities and more.
Visit TheGrint.com to learn more about the top courses lists and its other features.