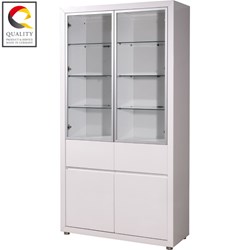 (PRWEB UK) 11 September 2013
Epsom Skin Clinic has purchased a Fino Gloss White Tall 4 Door Display Cabinet from FurnitureInFashion. FurnitureInFashion is an online furniture company catering to worldwide clientele and providing an extensive range of furniture items and home improvement items for many different sectors. Their products are designed to meet the challenges of quality and cater to the esthetic sense of their esteemed customers. This company provides many fashionable stylish choices for people looking to add zing and taste in their homes and work places. They deal with all kinds of furniture pieces like bedroom sets, display cabinets, office items, etc… The diversity available in their product collection made it possible for Epsom Skin Clinic to find a perfect display cabinet for their products on sale.
Part of the FINO range, this FINO Gloss White Tall 4 Door Display cabinet is a real eye catcher and allows you to design your own room setting. It has high-gloss white lacquered surface designed for enduring beauty, with Italian design and German manufacturing techniques and quality control. To satisfy the customers and make this product a welcoming addition into their homes, FurnitureInFashion used the best of materials. This display cabinet, W106cm x D40cm x H200cm, is suitable for homes, offices, and clubs, as well as hotels and shops. Customers can choose from other FINO range products, and mix and match to create a chic look in their homes. The innovative design includes an LED light per shelf for added style, which makes it easier to showcase anything desired by the client in the cabinet shelves.
A spokesperson of Epsom Skin Clinic said, "We are a clinic providing the esthetic satisfaction for our customers, and beauty is very important for us. Our medical professionals provide state of the art procedures to our clients, and it is very important for us to manage everything on time and to make sure that everything turns out perfect for our old and new customers. We were planning to add a glass cabinet in the main lobby of ours and looking for something sleek and classy. That is the reason we bought this display cabinet from FurnitureInFashion. We appreciate their help to make it possible for us to get our order in time, and we are happy with the quality of the product. Their product is a welcoming addition in our calm and stylish office."
The managing director and CEO of FurnitureInFashion replied in a statement, "We are dedicating our services to provide the best quality and cost-effective furniture items for everyone. Our goal is to keep up with the demands of the growing market and to stay abreast with the upcoming fashion. We believe in maintaining our standards of German manufacturing, and our quality control planning makes it easier for us to provide the best product to the customers and the fastest way of delivery."
To have a look at quality, affordable furniture online and to place a pre-stock order, please visit the company website today at http://www.furnitureinfashion.net. The range of home and office furniture on the website is huge, delivery is fast, savings are massive, and quality is guaranteed.
About FurnitureInFashion
FurnitureInFashion is a UK-based online retail business. It supplies furniture from its German-based warehouse and has a showroom in Bolton, UK. The company provides everything from umbrella stands, wall art and room dividers, to bedroom suites, bar stools, and computer tables. FurnitureInFashion offers free delivery within the UK and is rightly proud of its excellent customer service. For further information and details about sales, please visit http://www.furnitureinfashion.net.