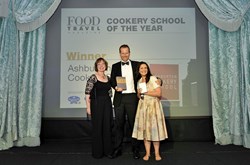 Winning the Cookery School of the Year award two years in a row is just fantastic.
Ashburton, Devon (PRWEB UK) 10 September 2013
This year, around 60,000 votes were cast by Food and Travel Magazine Readers to nominate the best in food and travel establishments. Ashburton was shortlisted with many of the country's best cookery schools including the prestigious Leith's School of Food and Wine, Food at 52, The Bertinet Kitchen and The School of Artisan Food.
Guy Woodward of Food and Travel Magazine says, "Ashburton's was a well deserved triumph – for the second year in a row it has been recognised in this way by our readers. No doubt they were impressed by its state-of-the-art facilities, varied courses and meticulous attention to detail."
Ashburton Cookery School offers over forty courses to home cooks and aspiring chefs who are taught modern cookery skills by expert chef tutors at the school's new training centre on the edge of beautiful Dartmoor National Park in Devon. Courses range from one-day, weekend and five-day courses for home cooks through to full six-month-long chef qualifications at their Chefs Academy.
Darrin Hosegrove, Chef Director of Ashburton Cookery School, comments, "The staff at the school are over the moon with the result. We felt honoured to receive such great recognition last year, and winning this award two years in a row is just fantastic. We promise our customers an inspirational cookery course, and we are delighted that they value our work so highly."
For more information about the Ashburton Cookery School, please visit http://www.ashburtoncookeryschool.co.uk.
-----
Note to Editors:
Established in 1992 the Ashburton Cookery School offers more than 40 cookery courses aimed at enthusiastic home cooks and aspiring chefs. The courses are delivered by a team of nine accomplished chefs from their world-class culinary academy in Devon, England.
Winner - Cookery School of the Year – 2012 – Food & Travel magazine
Winner - Cookery School of the Year – 2013 – Food & Travel Magazine
Winner – Best English Cookery School – 2012 - British Cookery School Awards
Winner – Best Large Cookery School – 2012- British Cookery School Awards