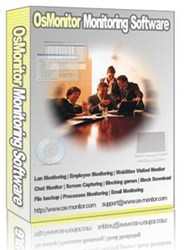 (PRWEB) September 09, 2013
Recently, Os-monitor.com, a leading company that is devoted to designing and developing all kinds of software, has unveiled its Employee Monitoring Software, OSmonitor, which can be used to record employee activity.
With this software, OSmonitor, employers can install varying degrees of restrictions on employees' computer systems. The new software keeps an eye on how employees are carrying out the tasks assigned to them; it also keeps a check on emails sent from employee computers.
According to a spokesman for the company, the software is designed to increase the e employees' productivity and efficiency. As a result, the employees will have to stay at their work alone rather than wasting time and resources on useless things and activities.
The spokesman says, "If you use our new software to monitor your employees, it is most likely because you are worried that the workers have low levels of productiveness due to their misuse of the Internet. How does this software enhance your employees' productiveness degree? The sole genuine solution to the issue would be to discover a method to encourage your workers to complete a greater occupation."
Technology has several perks but it is not without certain disadvantages too; organizations using computer systems connected to internet facility lose billions daily just because employees waste their time on the internet doing whatever they please. Programs like OSmonitor can play a vital role in minimizing such grave losses. When the employee time will be utilized fully, the company will have increased efficiency as well as productivity.
Established in the year 2006, Wangya Computer Co., Ltd specializes in developing different kinds of useful monitoring software programs. Operating through its website os-monitor.com, the company has all its development offices based in Asia.
For more details, please visit: http://www.os-monitor.com.