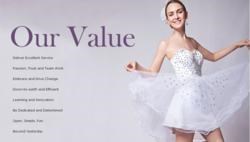 (PRWEB) September 09, 2013
Recently, MMdresses.com, the leading wedding dress manufacturer and retailer, has released its new collection of Quinceanera gowns, and announced a site-wide Quinceanera gown promotion. According to the CEO of the company, all people can enjoy the discounts, up to 59% off, before Sept. 19, 2013.
MMdresses.com's Quinceanera gowns are well-known for fashionable designs, which are offered at reasonable rates. MMdresses strives to offer ladies a chance to find the perfect dresses at very low prices. Many people keep an eye on Mmdresses.com, because exciting things happen there every day.
"We have an elite team with much experience and unlimited creativity in dressmaking. Now, the cheap Quinceanera gowns are available for everyone. Trust us, and visit our website now," says the CEO of MMdresses.com.
MMdresses.com is dedicated to slit cut prom dresses, homecoming party dresses, bridesmaid dresses, evening dresses, and more. When the company finds or develops a new dress, it is clearly superior to the model it is replacing, or they won't offer it to their customers.
About MMdresses.com
MMdresses.com is an award winning wedding dress manufacturer and retailer, offering a wide range of bridesmaid dresses, evening dresses, and more. At Mmdresses, ladies will receive professional help directly from dress experts. The company aims to deliver ladies worldwide all kinds of dresses at prices as low as possible.
More information can be found at http://www.mmdresses.com/.