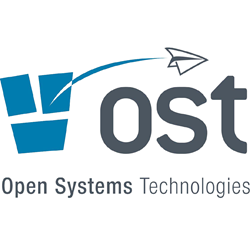 'We are excited to have OST's first-hand experience in developing great apps for their clients with Xamarin,' stated Erik Polzin, Senior Partner Manager at Xamarin.
Grand Rapids, MI (PRWEB) September 25, 2013
In order to meet the growing demand for cross platform mobile application development, one of the state's most recognized technology firms, OST (Open Systems Technologies), has announced that they have become one of only 20 premier partners with San Francisco, CA based Xamarin, a company that empowers over 350,000 developers to build fully native mobile apps across all major device platforms using C#. The partnership is the first in Michigan for Xamarin.
With Xamarin, enterprise businesses leverage existing in-house .Net developer skills, C# code and tools to build apps that share up to 90 percent of their source code across device platforms. Unlike traditional approaches to cross-platform development that deliver lowest common denominator user experiences, Xamarin developers build world class, native apps for multiple platforms in a fraction of the time.
"As a Premier Consulting Partner, we are excited to have OST's first-hand experience in developing great apps for their clients with Xamarin," stated Erik Polzin, Senior Partner Manager at Xamarin. "In addition, we look forward to working with OST to help their vast client portfolio succeed in the mobile era."
OST's Application Development Practice has been recognized as one of the largest App Dev teams in Michigan for the past four years with annual revenues of $9 million and a roster of 30 full time developers as well as 50 full time contractors.
"OST has grown over the years due to its commitment to providing a creative, fun, family-first culture and state-of-the-art work environment that's lead us to where we are today. In addition, we continually leverage the mind power of each member of our team to gather input on our technological direction. The partnership with Xamarin allows us to help our clients take advantage of consumer and internal facing cross-platform, fully native mobile apps. The mobile revolution is just starting and this partnership enables OST to help our clients get the maximum benefit with the lowest cost when targeting apps to multiple mobile platforms," says Brian Anderson, OST's Business Development Manager for App Dev.
The opportunity comes at an ideal time for several OST clients, including Johnson Controls (JCI), a major client of OST, and the first of many to benefit from the new platform.
With offices in Grand Rapids, Ann Arbor and Detroit, Michigan as well as Minneapolis, OST has grown tremendously in the last few years. Since June 2010 OST has grown from a total of 49 to 120 employees plus an additional 70 full-time contractors. FY13 (April 2012 – March 2013) company revenues totaled $80 million. They were recently recognized on the Inc 5,000 List for the seventh year in a row.
About OST
http://www.ostusa.com
OST (Open Systems Technologies) is an $80 million company with offices in Grand Rapids, Detroit and Ann Arbor, Michigan, Minneapolis and London, England. OST has been focused on providing IT infrastructure services and products for over fifteen years; in addition OST offers security services, custom application development services, managed services, and business process services. Since 2003, the company has grown it revenue at a compounded rate of over 30% annually. Each year since 2007 OST has been recognized in INC. magazine's 5,000's Fastest Growing Private Companies. OST was also listed on CRN's Tech Elite 250 in 2010, 2011, 2012 and CRN's FastGrowth100 in 2007, 2008 and 2009. They were named a Michigan 50 Companies to Watch in 2009.
About Xamarin
http://www.xamarin.com
Xamarin is the new standard for enterprise mobile development. No other platform enables businesses to reach all major devices—iOS, Android, Mac and Windows—with 100% fully native apps from a single code base. With Xamarin, businesses standardize mobile app development in C#, share 75 percent of source code across platforms on average, and leverage existing skills, teams, tools and code to rapidly deliver great apps with broad reach. Xamarin is used by over 350,000 developers from more than 100 Fortune 500 companies and nearly 20,000 paying customers including Clear Channel, Schindler, McKesson, Halliburton, Cognizant, GitHub, Rdio and WebMD, to accelerate the creation of mission-critical consumer and enterprise apps. For more information, please visit: xamarin.com, read our blog, and follow us on Twitter @xamarinhq.