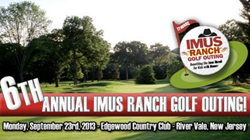 River Vale, NJ (PRWEB) September 10, 2013
77 WABC PRESENTS the "6th Annual Imus Ranch Golf Outing" at the beautiful, private Edgewood Country Club in River Vale, New Jersey!
Join us Monday, September 23rd, 2013 for this great day of golf, lunch, dinner, prizes and an evening performance by Rob Bartlett, of the Imus in the Morning program, that you don't want to miss!
The Edgewood Country Club is located only 20 minutes from the George Washington Bridge and features 27 spectacular holes, incredible food, tennis and one of the largest outdoor heated pools in the state!
Dinner only tickets will be available once again, so you don't have to miss the great evening of entertainment that follows the outing! The evening festivities at the Imus Ranch Golf Outing are always top notch!
The Imus Ranch is a working cattle ranch for kids with cancer. It is located in beautiful Ribera, New Mexico and has hosted more than 1,000 kids since 1998.
To make a donation to The Imus Ranch, a 501(c)(3) charitable organization, click here or contact us at The Imus Ranch PO Box 250 Ribera, NM 87560