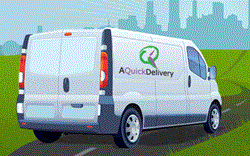 (PRWEB) September 10, 2013
QuickDelivery, a recognized leader in same-day courier delivery, messenger and transportation services, announces driver confirmed document filing services. The announcement comes in an effort to provide customers with the assurance that their documents have been court filed correctly, promote customer loyalty, and enhance service improvements. AQuickDelivery strives to be the best choice for same-day delivery solutions throughout Atlanta and the Georgia area.
AQuickDelivery driver-confirmed document filing services consist of the courier taking the proper measures to not only pick up and deliver a document to a court, but also to make sure it is filed. Once a driver arrives at the court to perform a one-way delivery, the documents are provided to the clerk. AQuickDelivery drivers are instructed to wait at the court until it is confirmed that the document is filed. At that point, the order is officially complete and then the driver exits the location.
Driver-confirmed document filing is the most beneficial practice for its courier drivers. Customers, especially law firms, with time-sensitive documents are afforded the peace of mind that their filing has been completed and done correctly. With the brief wait time until the document is filed, it also gives the clerk an opportunity to ask the driver any questions, in the event the document is inadequate for filing or something is missing to perform it. The driver is able to immediately contact the AQuickDelivery dispatch or the customer directly to resolve the matter.
AQuickDelivery also provides its customers with an automated e-mail delivery confirmation. The e-mail informs the customer of the exact time of filing, date and name of the clerk that filed the document. Whether it is a court or other government institution, the courier can meet its customer demand with this level of quality and professional value-added service. For any special filing requests, customers are requested to contact the Atlanta Courier via phone to discuss their specific same-day delivery needs.
AQuickDelivery is a premier same-day courier offering transportation and distribution services. From small packages to palletized freight, AQuickDelivery delivers fast. As a leader in the courier industry, their goal is to perform optimal courier logistic solutions and superior customer service every time. The courier provides same-day delivery successfully for over 1,500 clients, including Fortune 500 companies throughout Atlanta and the Georgia area.