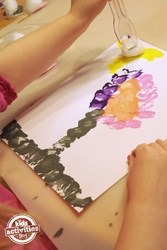 Hand muscle development is important for learning new skills.
Dallas, TX (PRWEB) September 15, 2013
A playful painting activity and a laundry list of fine motor skills activities have been published on Kids Activities Blog. Fine motor skill development is very important for young kids. Seasoned Moms are sharing their playful ideas that help to develop precious hand muscles.
Strengthening hand muscles is important for young children to be able to dress themselves, pick up their toys, and use utensils properly. As children get into preschool and approach kindergarten, the muscles can continue to be strengthened in order to control the pencil grip.
A playful fine motor skills tip is a painting activity with cotton balls, paint, and tongs. Simple household items can really make painting fun and unique for the child. Let the child use tongs to pick up a cotton ball and let them dip it in paint.
Let the child use a different cotton ball for each color. He or she can simply smear the paint around or experiment making different designs. Encourage them to paint with the tongs.
Other fine motor skill activities are simple and easy to set up, too. A good start is letting the little ones string cheerios or let them push pipe cleaners through colander holes. Other simple activities include letting them grab pom poms with a pair of tweezers or tongs.
Another great activity is letting them cut strands of hair for a paper doll project. Tracing letters and numbers with yarn or painting empty containers can turn into the kids favorite pastime. The activity ideas are endless.
For detailed instructions and to get additional fun activities for kids, check out Kids Activities Blog this week. Come get inspired to let the kids have a blast with fun activities that sneak in a bit of learning, too.
About Kids Activities Blog
Kids Activities Blog is a website created by two moms (who collectively have 9 children), Rachel Miller and Holly Homer from June Cleaver Nirvana. It is their daily goal to inspire parents and teachers to play with kids. This interactive website publishes simple things to do with kids twice a day. Kids Activities Blog is a great tool for moms and teachers to find kid-friendly activities that create memories and sneak learning into the fun.