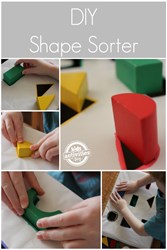 Shape sorters introduce early math concepts, teach organizational skills but above all are simply fun for toddlers.
Dallas, Texas (PRWEB) September 18, 2013
Shape sorters are a fantastic toy for toddlers. Seasoned Moms on Kids Activities Blog are sharing a DIY shape sorter idea and a laundry list of motor skills development activities that are both fun and educational.
Shape sorters make a fun learning tool. They help develop fine motor skills, introduce early math concepts, encourage problem solving, and teach organizational skills. But best of all, they are fun for toddlers.
Materials needed to build the shape sorter can be easily found around the house. They include a cardboard box, a pencil, a scissor, a variety of wooden blocks, markers to match the colors of the wooden blocks, white paper and tape.
Trace the shape of the wooden blocks with a pencil on the cardboard lid. Cut out the shapes. Wrap the box and lid with the white paper and cut out the holes. Trace each shape with the corresponding color of the block and ready is the activity.
Other fun additional activities that develop fine motor skills include stringing cheerios, pushing pipecleaners through collander holes, an activity to trace letters and numbers with yarn, and a fun activity that cuts strands of hair for paper dolls.
For detailed instructions and to get additional fun projects for kids, check out Kids Activities Blog. Come get inspired to let the kids have a blast with activities that sneak in a bit of learning.
About Kids Activities Blog
Kids Activities Blog is a website created by two moms (who collectively have 9 children), Rachel Miller and Holly Homer from June Cleaver Nirvana. It is their daily goal to inspire parents and teachers to play with kids. This interactive website publishes simple things to do with kids twice a day. Kids Activities Blog is a great tool for moms and teachers to find kid-friendly activities that create memories and sneak learning into the fun.