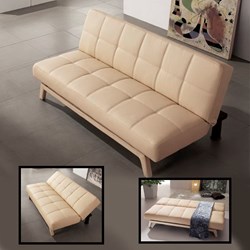 (PRWEB UK) 12 September 2013
SXS Events purchased some beautiful Paris Cream Faux Leather Sofa Beds from FurnitureInFashion. FurnitureInFashion is a UK-based company dealing with a wide variety of furniture items for household usage and other professional environments. They are one of the leading sellers of contemporary and modern furniture items in UK, and their online presence is commendable, which gives credibility to their dedication to quality control and innovative designs. The company offers extensive range of furniture items for almost all home and office categories. They provide a wide selection in sofa beds, and their Paris Cream Faux Leather Sofa Beds are very popular, as they are suitable for homes and offices, and are easily used for dual purpose of sitting and sleeping.
FurnitureInFashion's variety in sofa-cum-beds is extensive and gives the buyers a free hand to choose the right one for their home or office environment.
The furniture items bought by SXS Events, Paris Cream Faux Leather Sofa Beds, are made with the German manufacturing quality control rules. These furniture pieces are designed for comfort and durability. These leather sofas are an easy option to give any room a certain class and sophistication instantly. It has comfort, style, and functionality all in one. All fabrics, fillings, and foams are fully compliant to UK fire & safety regulations. It has an adjustable angle design to give more options of style and look. Its shape, length: 180cm, width: 86cm (as sofa), 110cm (as bed), sofa height: 78cm, and sleeping area: 180cm x 110cm is ideal for small rooms and large ones at the same time. This sofa is a good option for those who are looking for a good quality, stylish looking, and cost-effective purchase. It is also available in black and brown faux leather.
A spokesperson from SXS Events told us, "We at SXS Events believe that it is our duty to give a hassle-free day to our customers, where they can have great memories without the burden and tension to manage anything themselves. We provide our services to a large number of organizations and private firms, and it is very important for us to have a nice foyer and waiting room, comfortable and welcoming. We wanted to order something along these lines, and Paris Cream Faux Leather Sofa Beds is just what we were looking for. This is ideal for our office, where we sometimes have to stay late to finish things. We appreciate the prompt delivery of the sofa beds and hope to do more business with FurnitureInFashion."
The CEO and the managing director of FurnitureInFashion said, "It was our pleasure to supply our items to SXS Events. We believe in keeping the quality high and prices low. We would love to be of assistance in the future also. We at FurnitureInFashion have a strong belief that if the good standards in quality and the innovative designs are available to choose from, then we will have happy and satisfied customers."
To have a look at quality affordable furniture online and to place a pre-stock order, please visit the company website today at http://www.furnitureinfashion.net. The range of home and office furniture on the website is huge, delivery is fast, savings are massive, and quality is guaranteed.
About FurnitureInFashion
FurnitureInFashion is a UK-based online retail business. It supplies furniture from its German-based warehouse and has a showroom in Bolton, UK. The company provides everything from umbrella stands, wall art and room dividers, to bedroom suites, bar stools, and computer tables. FurnitureInFashion offers free delivery within the UK and is rightly proud of its excellent customer service. For further information and details about sales, please visit http://www.furnitureinfashion.net.