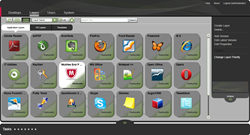 The benefits we're already seeing from our virtualization initiative are priceless. We couldn't have pulled it off without Citrix, Nutanix, and Unidesk.
Marlborough, MA and San Jose, CA (PRWEB) September 10, 2013
Southland District Council has proven that server and desktop virtualization projects can be simple, fast and cost-effective when transformational technologies are used. The council, which oversees the largest district in New Zealand covering more than 10% of the country's land mass, has virtualized all of its desktops and migrated all of its virtualized servers in less than 90 days with Citrix®, Nutanix™ and Unidesk®.
200 council staff can now access their virtual desktops from any device and any location throughout the district, New Zealand, and the world with Citrix XenDesktop®. The desktops are effortlessly created, managed, and configured with over 80 different applications using Unidesk VDI management software and its patented desktop layering technology. The 200 desktop and 80 production server workloads are hosted together on the Nutanix Virtual Computing Platform, which provides converged storage and compute resources on a single appliance.
"The benefits we're already seeing from our virtualization initiative are priceless," said Damon Campbell, Southland District Council CIO. "Workers can work from anywhere, on any device, and have the same computing experience. They are more efficient and more productive, and our IT team is as well because everything is centralized, standardized, and simplified. We couldn't have pulled it off without Citrix, Nutanix, and Unidesk."
The council's IT team, together with IT solution provider BEarena, began preparing for the move to virtualization in 2012. With the realization that leases on PCs would be expiring within two years, they started educating key end users on the benefits of Virtual Desktop Infrastructure (VDI). Pilots of Citrix XenDesktop and Unidesk were conducted in early 2013 to validate VDI capabilities. Two Nutanix blocks arrived on May 13, 2013. The 80 virtualized servers were migrated and the 200 virtual desktops were put into production on July 1, less than three months later.
High Performance VDI with Citrix XenDesktop
While the mobility and security benefits of VDI were well understood, the IT team had initial concerns about whether a high quality virtual desktop experience could be achieved. Southland, New Zealand covers over 34,000 square kilometers, much of it rural. The region's limited bandwidth would have to be maximized for VDI to be usable by the council's many remote office and field workers. With Citrix XenDesktop Platinum Edition, this challenge was overcome.
Southland now relies on the high definition audio-visual experience of the Citrix HDX protocol, the WAN optimization capabilities of Citrix Branch Repeater, and the broad client support of Citrix Receiver to deliver anywhere, anytime connectivity to Unidesk virtual desktops. Council workers can access their desktops through repurposed PCs, HP thin clients, home PCs, tablets, and mobile devices in almost any location.
"Citrix has always been a leader in remote desktop delivery, and our research and proof of concept confirmed that Citrix XenDesktop was the best choice for us given our WAN requirements," commented Campbell. "Our users love having the flexibility to work from the office, home, a hotel, or the road and have the desktop experience always be the same. USBs, printers, video, and everything else they needed works just like it did on their PCs."
Simple, Scalable Converged Infrastructure with Nutanix
Southland initially looked at expanding its blade server and SAN infrastructure for its virtualization project. However, the emergence of converged infrastructure solutions and their ability to run any virtual workload with great efficiency, less cost, and fewer dedicated resources made the IT team rethink this approach. After researching various solutions, they selected and implemented two Nutanix Virtual Computing Platform blocks, each with four nodes.
The Nutanix appliances combine compute and storage in a single system, eliminating the need for traditional servers and storage arrays. Southland now hosts all of its virtual workloads -- desktop and server -- on the Nutanix systems. The use of flash-based storage in each node enables Nutanix to handle the high I/O requirements of virtual desktops, and the bursts that are often caused by desktop logins.
"We ran the numbers, and Nutanix was the clear winner compared to buying separate blade servers and SAN infrastructure," added Campbell. "We're getting greater compute, storage capacity, and storage IOPS, and we estimate that we'll save NZ$500K over five years. Nutanix also takes away the complexity of fibre channel SAN, which our lean IT staff appreciates."
Simple VDI Management and Application Delivery with Unidesk
The wide range of community services provided to Southland residents require highly customized desktops configured with more than 80 Microsoft Windows applications. The district's success with VDI would hinge on how easily the IT staff could provision, update, and manage virtual desktops that are all slightly different. Unidesk, with its innovative desktop layering technology, was the answer.
With Unidesk, all of Southland's desktops are created from one Windows gold image layer. Security patches and hot fixes are delivered to all desktops by patching this layer once. Applications are layered separately using standard installation procedures, then modularly assigned to desktops with a click and a reboot. Application updates are delivered to all desktops by patching application layers once. Unidesk's integration with Citrix XenDesktop automates the provisioning of layered desktops into XenDesktop catalogs and groups.
"Unidesk's layering technology is really the glue that pulls our VDI implementation together and gives us the operational efficiencies we were seeking," said Damon. "We were able to layer our 80 applications in three days, and then build our desktops just by mixing and matching the layers. It couldn't have been easier."
VDI Storage Efficiency and IO Performance with Nutanix and Unidesk
The combination of Nutanix and Unidesk has enabled Southland to avoid the IOPS and storage capacity challenges that stall many VDI deployments. Unidesk stores Windows and application layers only once per Nutanix node, greatly reducing VDI storage capacity requirements. As a result, each persistent desktop consumes an average of only 6.6 GB of storage, enabling a Nutanix block to store up to four times more desktops.
Unidesk also takes full advantage of the Nutanix flash-based storage cache in each node. Since all Unidesk desktops on a Nutanix node access the same shared Windows and application layers, this heavily accessed data stays "hot" and remains on the flash storage for outstanding I/O performance.
"Our 200 persistent Unidesk desktops are using only 1.4TB of storage capacity, compared to the 15TB that would be required if they were standard virtual desktops," said Damon. "The storage savings we get with Unidesk helps us leverage Nutanix for both desktop and server workloads. And our users say their desktops are as fast as their PCs and laptops, which isn't surprising given the bulk of the desktop I/O is coming from the Nutanix flash."
Tweet This: Southland District Council New Zealand – 100% virtualized in 90 days with @XenDesktop, @nutanix, & @UnideskCorp – http://bit.ly/17wYBoC
To learn more about Southland District Council's virtualization initiative, register for the two live webinars with Damon Campbell of Southland District Council that will take place on Thursday, September 26 at 2:00 PM NZST and 2:00 PM ET. Register here: http://www.unidesk.com/resources/webinars
About Unidesk Corporation
Unidesk provides the management platform that makes Virtual Desktop Infrastructure (VDI) work. Unidesk's patented desktop layering software is the only effortless way for IT organizations to deliver applications, manage images, sustain user customizations, and optimize storage for Microsoft Windows® desktops virtualized with VMware vSphere®. Hundreds of Citrix XenDesktop® and VMware Horizon View™ customers use Unidesk to make VDI provisioning and Windows management elegantly simple. Unidesk is a privately held company headquartered in Marlborough, Mass., with authorized solution partners around the world. For more information, visit http://www.unidesk.com.
About Nutanix
Nutanix provides datacenter infrastructure solutions that are hyper-efficient, massively scalable and elegantly simple. The award-winning Nutanix Virtual Computing Platform has disrupted the market by seamlessly and natively converging compute and storage in a single appliance. Headquartered in San Jose, Calif. with offices and authorized solution providers throughout the world, Nutanix is privately held and backed by top-tier VC firms. For more information, visit http://www.nutanix.com.
Nutanix is a trademark of Nutanix, Inc. and Unidesk is a registered trademark of Unidesk Corporation in the United States and/or other jurisdictions. All other trademarks and registered trademarks are property of their respective owners.