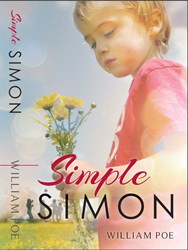 The power of forgiveness and acceptance can resonate with all readers. – Melisaa Wuske, Clarion ForeWord Reviews
SILVER SPRING, MD (PRWEB) September 17, 2013
"Simple Simon" (ISBN 1477624996) covers the issues of coming out as homosexual and the dangers of trying to suppress one's true identity. Author William Poe pulled from his own life experiences to create the powerful, fictional work.
Simon Powell is a young gay man in rehab who is urged by his counselor to write in order to learn who he truly is as a person and become a complete individual worthy of love. In his disturbing recollection of innocence lost, Simon leads an alienated, withdrawn life because of his homosexuality. Following his troubling early childhood, Simon depicts everything from his artistic talents to his parental neglect and near suicide. After falling into drugs and religion, Simon's story takes him from the depths of addiction and self-loathing to battling back in an effort to realize his dreams of becoming an artist and starting a new life with Thad.
Stressing the importance of self-reflection, "Simple Simon" attempts to show readers that learning who we are can lead to a happy and fulfilling life. A story about the choices we make and their subsequent consequences, the novel strikes a chord with readers with its message and Simon's universal desire to be understood as a unique person who needs to learn how to love and be loved.
Highlighting the struggles involved with coming out as a homosexual and the dangers of suppressing your true identity, "Simple Simon" explores how these inner conflicts can lead to drug dependency and suicide. Furthermore, by incorporating a desire to understand one's place in nature completely separate from religious authority, the novel weaves in and out of religious themes like marriage equality and contemporary religious movements compared to traditional Christianity, creating a thought-provoking read for adults interested in alternative lifestyles and religion.
"Simple Simon" is available for sale online at Amazon.com and other channels.
What reviewers have said:
"Simple Simon's message of reconciliation and hope is truly for anyone who has struggled to resolve the truth they know about themselves with the way others see them. The power of forgiveness and acceptance can resonate with all readers." – Melisaa Wuske, Clarion ForeWord Reviews
"It's an engaging story throughout, and it's rarely obvious where Simon will wind up.
A sweeping, unpredictable fictional autobiography." – Kirkus Reviews
About the Author:
Award winning writer, William Poe, earned his bachelor's from the University of Arkansas at Little Rock before earning his master's from the University of Nebraska. At 18, he joined the Reverend Sun Myung Moon's Unification Church and remained there for most of the next decade. His novels, "Simon Says" and "Simple Simon," draw upon his experiences growing up in Arkansas, his involvement in a controversial church and his struggle to overcome addiction while carving out an identity for himself as a gay man. His first novel, "Simon Says," won top honors in the International Book Awards category Fiction: Gay & Lesbian, and has received favorable reviews from Publisher's Weekly, ForeWord Clarion Reviews, IndieReview, Midwest Book Review, and others.
MEDIA CONTACT:
William Poe
Email: SimpleSimon(at)poegen(dot)net
Phone: (240) 478 - 0232
Website: http://www.simplesimonnovel.com
REVIEW COPIES AND INTERVIEWS AVAILABLE.