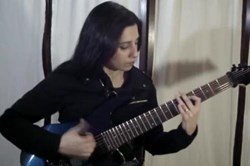 (PRWEB) September 09, 2013
Well-known for her blazing, shred-style guitar work, the Argentinean string wizard here shows off her funky side with right hand exercises in the slap style using thumb and first finger. It's on YouTube under the title "Rhythm Guitar Lesson - Learn How to Slap on the Guitar - Part 1."
First, Alexandra slowly demonstrates a simple one-note thumb slap. Next, she adds a deadened octave note by plucking with the first finger. She follows that with the addition of a second deadened note with the thumb, setting up a triplet rhythm. She adds more slaps until she has a churning, fast quintuplet rhythm guitar pattern going. The individual pitches of the notes are not as important as the slap sound, and though Alexandra demonstrates on a seven-string guitar, the exercise is easily adaptable to six-string. She also demonstrates the pattern entirely with muted strings so the player can get a good feel for the rhythm.
The lesson includes a link to printable slapping tabs written both in music notation and tablature for easy reading. Start slowly, working with a metronome to build up speed. After learning the basics, players should try adding riffs of their own to develop their personal style. Some other guitarists who use the guitar slap style are Guthrie Govan and Tuck Andress.
Hear more of Alejandra's masterful playing on recordings by the progressive metal band Inventio and on her own projects, which include full helpings of her sweeping, string-skipping and tapping expertise. Enjoy and learn more from Alejandra and all the teachers at Guitarcontrol.com in dozens of free lead guitar lessons at http://www.youtube.com/guitarcontrol.
GuitarControl.com, a leader in online music education, is the brainchild of ace Philadelphia guitarist Claude Johnson. Since 2004, the site has offered lessons taught by virtuosos in styles ranging from rock, metal and blues to jazz, bluegrass and country to classical, flamenco and fingerstyle acoustic. Its many DVD courses, include the brand new Supercharged Soloing Made Simple, Larry Coryell Jazz, Wicked Chicken Pickin' Chops, How to Play Smokin' Blues Guitar, and Gospel Guitar, as well as courses for singers, drums, bass and keyboard, and music software, song collections and jam tracks.