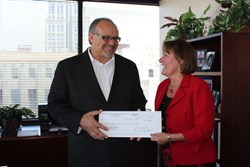 Greensboro, NC (PRWEB) September 11, 2013
This past week Habitat for Humanity of Greater Greensboro submitted a check for $338,665 to the Greensboro City Council, representing this year's property taxes for 300 homes purchased with the nonprofit's help. The money, paid to the tax office by the nonprofit from escrow accounts on the homes, did not include Habitat houses whose mortgages with the nonprofit builder have been paid off. Those taxes are paid by the individual homeowners.
"Over the past five years, Habitat Greensboro has paid over $1.5 million to the city in property taxes. This payment is just one example of how our partnership with the City of Greensboro is an investment in the future of our community," said Maria Hanlin, Executive Director and CEO of Habitat for Humanity of Greater Greensboro.
Habitat Numbers, Making a Difference in our Community
$60,000: Average cost to build a house in material, does not include the cost of land.
45,753: The number of hours that the 4,112 individuals volunteered with Habitat Greensboro last year.
$21,000 to $40,000: Typical family income range for Habitat Greensboro homeowners.
$550: Average mortgage, including property taxes, insurance and principal.
400+: Habitat has built over 400 new homes in Greensboro during the past 25 years.
300: Number of hours that homeowners are required to work with Habitat, called sweat equity, in order to purchase a home.
About Habitat for Humanity of Greater Greensboro
Habitat Greensboro was formed in 1987 by four Christians in response to their Habitat experience in Peru. Twenty-five years later, Habitat Greensboro has expanded to almost 5,000 volunteers and 30 staff who build, renovate and provide critical repairs to 30 to 35 homes each year, serving 418 families in Greensboro and 400 internationally.
How the Habitat Model Works
Habitat for Humanity partners with families who have steady employment for one year, participate in a thorough credit analysis, attend educational classes on budgeting and home repair and contribute 300 hours of sweat equity. Homeowners purchase their homes from Habitat at no-profit and with interest-free financing. Habitat then serves as the mortgage lender providing life of the loan 0% financing and loan servicing to Habitat homeowners.
About Habitat for Humanity International
Habitat for Humanity International is a global nonprofit Christian housing organization that seeks to put God's love into action by bringing people together to build homes, communities and hope. Since 1976, Habitat has served more than 600,000 families by welcoming people of all races, religions and nationalities to construct, rehabilitate or preserve homes; by advocating for fair and just housing policies; and by providing training and access to resources to help families improve their shelter conditions.