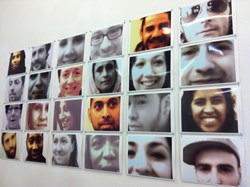 Berlin, Germany (PRWEB) September 09, 2013
New York artist Debbie Davies & German artist Julius Schön brought "The I Love You Project" to Berlin during the 48-Hour Neukölln Festival in June 2013 at Schillerpalais Gallery. Now Davies and Schön return to Schillerpalais to exhibit portraits of the participants photographed in the Spring, using a digital microscope camera. Davies will also exhibit her earlier digital microscope self portraits, including some erotica. Paper assemblages from her "This Page Intentionally Left Blank" series using recycled materials will also be exhibited during this two-person show September 14-27.
Davies and Schön will also participate in the Berliner-Liste art fair September 19-22.
The I Love You Project is a global interactive social art project celebrating diversity. Participants are videotaped saying, "I love you" in their native language, and portraits are taken.
The opening reception at Schillerpalais is September 13 at 7:00 p.m. [19:00]. Location: Schillerpromenade 4 in Neukölln, Berlin.