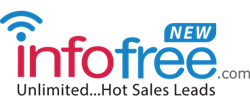 'I bought the one­‐year plan and on my second day of using it, I found a sales lead that paid for the annual price.' - Dan Whiting, district leader for Primerica
San Mateo, CA (PRWEB) September 09, 2013
Dan Whiting considers the day he became an infofree.com subscriber one of the most important moments of his career. It was the day after, however, that truly stood out.
"I bought the one­‐year plan and on my second day of using it, I found a sales lead that paid for the annual price," said Whiting, district leader in Ashtabula, Ohio, for Primerica, a leading provider of insurance products and investment services. "So then I had 364 more days free in my eyes. This is the best thing that happened to my business this year."
Whiting is among thousands of entrepreneurs, small business owners and sales professionals who are turning to infofree.com for sales leads and mailing lists that are the hottest on the market today. Named to the Inc. 500 list of fastest‐growing U.S. companies, infofree.com is the home of unlimited sales leads and mailing lists for $49.95 per month.
While the economy continues to bounce back from the Great Recession, infofree.com subscribers are finding that the company's 300 million consumer and business records give them a leg up on the competition. Users can tailor their searches of infofree.com's vast selection of databases to find new customers based on geography, age, gender, household income and other criteria.
In Palm Coast, Fla., Smart Water Technologies founder David Griest relies on infofree.com to target prospective residential and commercial clients for his water‐filtration business. The leads are easy to access, accurate and affordable, he said.
"It's great service and great value that keeps getting better," Griest said.
Since its founding, more than 100,000 users have experienced the proven results of infofree.com. Subscribers receive access to more than 200 specialized databases with listings for leads such as farmers, Americans turning 65 years old and new homeowners. Additional complementary services include printing and downloading of leads and mailing lists, mapping through Google Maps and email marketing through JangoMail.com.
To learn more or to subscribe, call (877) 448-­0101.
About: An Inc. 500 company, infofree.com is revolutionizing the sales lead and mailing list industries by providing unprecedented search, view and download of low­‐cost marketing information enabling sales professionals and small businesses to target new customers and increase their sales productivity. Offerings include 300 million business and consumer listings and more than 200 specialized databases.
Content is compatible with the following platforms: Oracle CRM, Salesforce CRM, Microsoft CRM, Nutshell CRM, Goldmine CRM, Sage ACT! CRM, Highrise CRM, Zoho CRM, NetSuite CRM, SAP CRM, Constant Contact, RightNow Technologies, Responsys, Vertical Response and Dun &Bradstreet.