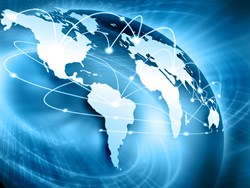 "Fleet management doesn't stop at the border and neither should NAFA," said NAFA's Executive Director Phillip E. Russo, CAE.
Princeton, NJ (PRWEB) September 11, 2013
One of the boldest initiatives within NAFA's Strategic Plan involves extending its reach beyond the borders of North America. In recent years, the Association has met with similar organizations around the globe in an effort to find others striving to elevate the status of fleet management in the business community. With a signed Memorandum of Understanding late last month, A.I.A.G.A. (the Italian Fleet Manager and Fleet Buyer Association) became the first international association to officially partner with NAFA on a global fleet level. The two associations will share resources, partner on events, exchange ideas, conduct research, promote each other's industry awards, and work towards their ultimate goal – an online, virtual learning center for fleet managers with resources available for NAFA and A.I.A.G.A. members.
"Fleet management doesn't stop at the border and neither should NAFA," said NAFA's Executive Director Phillip E. Russo, CAE. "For years we have paid close attention to our corporate members whose fleets have expanded globally. We've included global fleet management sessions in our annual conference programming and developed the International Fleet Academy. With this agreement, we take our first official steps into Europe."
"The partnership between A.I.A.G.A. and NAFA," said A.I.A.G.A.'s President and Barilla Purchasing Manager Giovanni Tortorici, "will be mutually beneficial for both organizations and for the fleet management industry as well. As the business world becomes more connected, partnerships like this will provide the expert instruction necessary within each region."
A.I.A.G.A. will be NAFA's exclusive partner in Italy. As part of the agreement, the two associations agree to supply free memberships for up to 12 members of NAFA's Board of Trustees and the A.I.A.G.A. Council. In addition, each organization will receive a pair of complimentary passes to the partner's annual industry event (The Company Car Drive presented by A.I.A.G.A. and NAFA's Institute & Expo). The two partners will also work together to develop educational content, conduct benchmarking surveys, and promote the industry awards presented by each organization.
"We may be on separate continents, but thanks to technology we will be able to work together just as easily as if we were in the same room," said Russo and Tortorici in agreement. "Videoconferencing and virtual meetings will keep us in regular contact and on track to reach our goals. As fleet management continues to evolve, a new approach is necessary in order to continue to provide the educational resources fleet managers need."
The main contents of the agreement between NAFA and A.I.A.G.A. will be presented during a video link to the participants of A.I.A.G.A's 2nd Fleet Manager Academy, which will be held October 16, 2013 at the Alma Mater Foundation of the University of Bologna. Then, during the NAFA's 3rd Annual International NAFA Fleet Academy, which will take place October 21-23 at Loews Ventana Canyon in Tucson, AZ , A.I.A.G.A.'s President Tortorici will describe A.I.A.G.A.'s experience and provide a vision of the Italian fleet market.
About AIAGA
Founded in Bologna, A.I.A.G.A. is comprised of managers with fleet responsibilities for vehicles of major national and multinational companies operating in Italy. The main purposes of the association involve: "the promotion of studies and research in the automotive business, the promotion of training and updating of employees for the purchase and management of company cars to be used for 'activity of the company or even as elements of the remuneration packages of executives and business executives, and the promotion of studies, research, and training in the field of enterprise mobility." For more information visit http://www.aiaga.it.
About NAFA Fleet Management Association
NAFA is the world's premier non-profit association for professionals who manage fleets of sedans, public safety vehicles, trucks, and buses of all types and sizes, and a wide range of military and off-road equipment for organizations across the globe. NAFA is the association for the diverse vehicle fleet management profession regardless of organizational type, geographic location or fleet composition. NAFA's Full and Associate Members are responsible for the specification, acquisition, maintenance and repair, fueling, risk management, and remarketing of more than 3.5 million vehicles including in excess of 1.1 million trucks of which 350 thousand are medium- and heavy-duty trucks. For more information visit http://www.nafa.org.