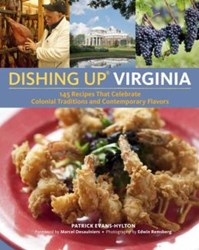 Middleburg, VA (PRWEB) September 11, 2013
Chef and Author Patrick Evans-Hylton will be speaking about his book, "Dishing Up Virginia: 145 Recipes That Celebrate Colonial Traditions and Contemporary Flavors" on Thursday, September 26th at Goodstone Inn and Restaurant in Middleburg, Va. The program, sponsored by The Journey Through Hallowed Ground Partnership, will kickoff with a reception from 5:00-6:00 p.m. and Hylton's talk starting at 6:00 p.m.
The cookbook contains 145 delectable recipes that celebrate the authentic flavors of Virginia, from oysters and blue crabs to wine, peanuts, heirloom tomatoes and sweet potatoes, Smithfield ham, and much more. Examples include Hanover Tomato Gazpacho, Ramp and Mushroom Strata, Crab Norfolk, Virginia Sea Scallops with Shallots and Walnuts, Twice-Baked Sweet Potatoes with Cranberries and Hazelnuts, Oysters Bingo, Chili-Rubbed Pork Loin Roast with Wine Country Salsa, Indian Butter Chicken, Cherry Shrub Cocktail, Black Cake, Scuppernong Granita, Peanut Butter Silk Pie, Monticello Apple Cake, and Bourbon Slush. The recipes are organized by region, Hampton Roads and the Chesapeake Bay area, Richmond and Southern Virginia, Central Virginia and Wine Country, the Capital Region and Northern Virginia, and the Shenandoah Valley and Western Virginia, making the book a great resource for tourists as well as Virginia natives.
Hylton is a Johnson & Wales trained chef. He is the Executive Editor of Virginia Wine Lover Magazine and serves as Senior Editor of Food & Wine for Hampton Roads Magazine, a regional lifestyle magazine in the Norfolk, Virginia Beach, and Williamsburg area. He produces bi-weekly food/lifestyle reports on The Hampton Roads Show for the local NBC television affiliate and is co-host of the hour-long Delicious Dish on his local PBS radio station. He also writes two different food columns twice monthly each for the Virginian-Pilot newspaper.
In addition, Hylton operates a pop-up restaurant, Bay Seasoned, a minimum of 6 times annually and is the host of Patrick Evans-Hylton's Chefs Table cooking school at Taste Unlimited, a premier gourmet retailer, with monthly classes and in-depth wine and wine/food pairing discussions at Taste Unlimited; bi-monthly. In addition, he is an instructor at The Muse Writing Center of all food-writing classes as well as the proprietor of Snap! Seasonings & Such, including the signature Chesapeake Bay Spice.
Hylton is a food historian with a collection of more than 20,000 pieces of culinary antiques specific to Virginia, the Chesapeake Bay, and the Mid-Atlantic. He lectures on food history for such groups as the Virginia Department of Agriculture, Culinary Historians of Washington, and Sysco Foods. He also serves as an instructor at Culinary Institute of Virginia including a food history/cooking class. Hylton is the winner of numerous awards, including Best Feature Writer in the state and Best Columnist in the state from the Virginia Press Association. He is an active member of the International Association of Culinary Professionals.
The cost of the program is $10 and includes light refreshments. A cash bar will also be available. Copies of Hylton's book will be available for purchase and signing after the program. Pre-registration is required as limited space is available. To register, or for more information, visit http://www.HallowedGround.org.