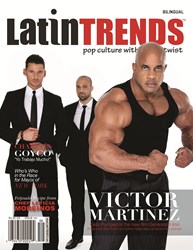 New York, NY (PRWEB) September 10, 2013
LatinTRENDS features 360° integrated marketing solutions via multimedia platforms including Print, Online, Digital, Social Media and Event Marketing.
This September, celebrate Hispanic Heritage Month with LatinTRENDS. Let us tell you all about how this month-long celebration got started, read our special tribute to the bodegas in our neighborhoods, and catch star-studded interviews with the likes of one Charytín Goyco for even more reasons to be proud of your Hispanic roots. Visit LatinTRENDS.com for updates on where to catch Hispanic Heritage Month events now through mid October.
And who is the brightest star of our September issue? Victor Martinez. Professional bodybuilder with an international following, Mr. Martinez is this close to being Mr. Olympia. And the training process is brutal. The Vladar Company, headed by Yudin Vladar and Edwin Mejia, document Martinez' journey of physical transformation, the making of a champion. Victor Martinez stars in Vladar's reinterpretation of Pumping Iron—the film that launched Arnold Schwarzenegger career—Generation Iron. The docudrama debuts in theaters this month.
For more information, please contact Maria Luna at (212) 852-6164 or via email at mluna(at)latintrends(dot)com.