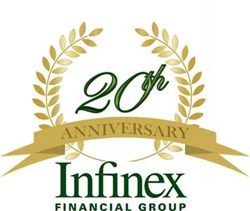 Meriden, CT (PRWEB) September 11, 2013
Indiana First Bank, a $293 million bank with 4 branches in western Pennsylvania, has selected Infinex Financial Group (Infinex) as its new broker dealer. "Converting to the powerful Infinex platform coupled with their unsurpassed service standards allows InFirst Financial Advisors to have access to the finest wealth management products available," said Timothy J. Kronenwetter, President and CEO on Indiana First Bank.
InFirst Financial Advisors has three advisors and will be converting to Infinex from H. Beck, Inc. "As our organization grows, it was vitally important that we partner with a broker/dealer that participates and understands the community banking model," said Bradley L. Peterson, CRPC, Senior Vice President and Managing Director – InFirst Financial Advisors, LLC. "We reviewed many firms during our due diligence process; our selection of Infinex will truly position us to enhance our client experience, expand our wealth management delivery process, and potentially provide exponential growth and value to our firm."
"The Infinex team is excited that Indiana First has chosen to partner with us," said Stephen P. Amarante, President & Chief Executive Officer of Infinex. "Our ability to help them build on financial institution best practices, high-touch support model, and lead generation process, which includes our C.A.R.E. Referral Training Program, will be invaluable to Indiana First and their clients."
Infinex is celebrating its 20th anniversary as an independent broker dealer focused on serving the investment, insurance, and wealth management needs of financial institutions. Currently, Infinex supports over 160 community based financial institutions and more than 450 advisors. The firm, headquartered in Meriden, CT and Glen Allen, VA has a unique history of being formed by banks, owned by banks, and focused on providing service to financial institutions.
Financial institutions or advisors interested in learning more about Infinex can contact the Business Development Team at 1-800-218-2827 or visit http://www.infinexgroup.com.
For more information about Indiana First products and services visit http://www.infirstbank.com.
Investment and insurance products and services are offered through INFINEX INVESTMENTS, INC. Member FINRA/SIPC. Infinex and the bank are not affiliated. Products and services made available through Infinex are not insured by the FDIC or any other agency of the United States and are not deposits or obligations of nor guaranteed or insured by any bank or bank affiliate. These products are subject to investment risk, including the possible loss of value.