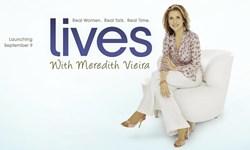 "What I hope to do with this channel is give women a sense of community, a place they can go to learn about what other women have dealt with in their lives, and hopefully to leave feeling more connected and empowered." -- Meredith Vieira
New York, NY (PRWEB) September 09, 2013
IconicTV today announced the launch of "LIVES with Meredith Vieira" a YouTube channel curated by 14 time Emmy® Award winner, Meredith Vieira.
The Channel debuts with the premiere of OVERSHARE featuring an intimate portrait of Meredith over the years. She discusses balancing family and work, rebounding from getting fired and the graceful journey with her husband of many years, Richard Cohen.
When asked why she made the decision to launch a YouTube Channel, Vieira replied: "What I hope to do with this channel is give women a sense of community, a place they can go to learn about what other women have dealt with in their lives, and hopefully to leave feeling more connected and empowered."
"We are thrilled to welcome Meredith Vieira to the IconicTV family. The consummate storyteller, Meredith will introduce her viewers to amazing women from all walks of life as they share their stories of hope, health and personal triumphs," said Larry Aidem, President & CEO of IconicTV.
According to Michael Hirschorn, IconicTV Co-Founder and Chief Creative Officer, "Meredith has the unique ability to draw people in and make them feel welcome. Her warmth is contagious and it is our hope that this will translate into a community where women can take part in the conversation as they share and learn in a welcoming environment."
In addition to OVERSHARE, Mary-Liz McDonald, SVP, Programming and Production, IconicTV, has worked closely with Vieira to develop series such as INSTANT RESPONSE TEAM a lively discussion about current events and pop culture trending topics, and TALES OF LOVE AND LUST, a series of heartbreakingly and occasionally cringe-worthy first-person stories of life in NY and LA's dating and sexual snakepit.
LIVES is pleased to announce a launch partnership with The Cottonelle Brand, a sponsor of both the Channel and OVERSHARE. This series reinforces Cottonelle's current campaign encouraging people to open up about topics that can be hard to talk about. Additional brand partnerships will be announced shortly.
A recognizable face on Daytime television with the Meredith Vieira Show premiering in 2014, Vieira says content will feature some "women who you will recognize and others you don't know but will get to know."
Following the primetime airing of "Valerie's Story: A Meredith Vieira Special", September 19th on NBC at 10 PM EST, the two women will continue the discussion the following day with the first of many Google+ Hangouts, which will live stream on YouTube. Viewers will be encouraged to join the conversation and share their #cancerstory on Social Media.
About IconicTV:
A new kind of digital media company, IconicTV is dedicated to building the best multi-channel network by creating premium video supported by the creative direction and formidable social footprints of top-tier, best-in-class talent. IconicTV is headed by Larry Aidem and Michael Hirschorn, media executives with broad experience in both traditional and digital media. With its almost 2 Million subscribers, content production expertise and high profile talent, IconicTV offers consumers and advertisers alike a customized entertainment experience that is unsurpassed. Learn more about IconicTV at http://www.iconictv.com or contact Claire Mannis, claire(at)iconictv(dot)com (646-738-2068).
About LIVES with Meredith Vieira:
LIVES with Meredith Vieira is a premium digital channel dedicated to exploring and championing real women. As curator, Meredith drives the conversation between and about women with a mix of deeply personal, informative, and entertaining content…created around the authentic, funny, and sometimes raw stories that make up our day-to-day existence. We explore the issues—politics, work, marriage, healthcare, parenting, sex, money—through the lens of ordinary, and sometimes extraordinary, real women of all ages. It's the diverse, multi-generational approach to topics that sets this channel apart…and, the conversation's just beginning.
For press opportunities, contact Suncera Johnson, suncera(at)amassdigital(dot)com (347-676-0136)