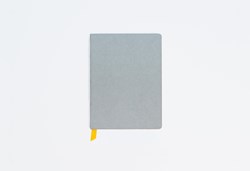 According to the founders, their interest lies in "not what you make in the books, but what you make with your ideas beyond them."
New York, NY (PRWEB) September 11, 2013
Baron Fig is a project between three friends to create sketchbooks and notebooks designed with an underlying philosophy of simplicity, usefulness, and community.
Every day, creative professionals spend vital time in their notebooks. It's important that they're comfortable using them and that they fit their needs. Most available books are either poorly made or cater towards visual artists making finished work. That's where Baron Fig comes in. They're dedicated to putting together high quality notebooks—in blank, ruled, and dot grid formats—with lots of space "for those of us who want to let our minds meander through the gardens of our thoughts."
For inspiration, the Baron Fig team initiated dialogues with hundreds of creative professionals and thinkers around the world and asked them one simple question: "What do you like in a sketchbook or notebook?" All the hours of research, testing, and discussion have helped them distill the qualities that make a tool conscious enough to help the creative process and simple enough so that it doesn't get in your way. Some of Baron Fig's features include opening flat, smart dimensions, quality lasting paper, a dozen perforated pages in the back, and an ever-evolving ethos. More details can be found on the Books page of the website.
Baron Fig launched a Kickstarter to fund their "Book for Ideas", which hit its first funding goal of $15k in just one day. The start-up hit their $30k stretch goal in three days and second stretch goal of $45k in one week. Now they're working their way to $60k with 22 days still left in the 30-day campaign.
Like a tech product, Baron Fig books are a constant work in progress. Once the backers receive their books, they'll have the opportunity to provide comprehensive feedback via baronfig.com, and the company will work on iterating the books to consistently better their offerings.
The project has resounded with creatives everywhere, already garnering over 1,100 backers from all corners of the world. Unlike most cluttered Kickstarter projects, they're keeping things simple: "Our project is based on simplicity, in keeping with that spirit we're not going to do stickers, posters, and postcards like many Kickstarter campaigns do. We believe in these books, and have worked on perfecting every subtlety to make a product you can use and love." They have three options for books: 1 for $20, 3 for $50, and 10 for $150, all with US domestic shipping included.
Extending the campaign beyond Kickstarter, Baron Fig began releasing the Idea Series yesterday, which features thinkers "...across a myriad of occupations, [who use] their unique perspectives to bring ideas to life. In the Idea Series, each individual talks about a particular aspect of their process." The first video is an insight into Collaboration with Choreographer Prentice Whitlow. Six more videos are scheduled over the next three weeks.
The founders Joey Cofone, Adam Kornfield, and Scott Robertson believe that it's "...not about what you make in the books, but what you make with your ideas beyond them."
More information can be found at http://www.baronfig.com.