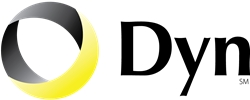 'They have a long history of cloud computing, colocation and managed hosting, which makes them a natural extension of what we're doing at Dyn.' - Kyle York, Dyn's CRO
Manchester, NH (PRWEB) September 10, 2013
Dyn, the worldwide leader in Internet Performance Solutions, announced today it is partnering with Contegix, a leading IT hosting company known for its customer service and infrastructure intelligence, to solve their Enterprise DNS needs.
This partnership will allow clients of Contegix to be able to more efficiently route traffic between different points within the Contegix network. This is done by utilizing strategic management of traffic at the DNS layer from Dyn, which creates an overall better end-user experience. Dyn's globally replicated infrastructure provides end-users around the world with immediate access to the nearest DNS server.
In addition to traffic management and enhanced speeds, Dyn's solution will also help support Contegix as it makes the transition to IPv6 (Internet Protocol version 6).
"We are excited about this partnership with Contegix," said Kyle York, Dyn Chief Revenue Officer. "They have a long history of cloud computing, colocation and managed hosting, which makes them a natural extension of what we're doing at Dyn. Our collective clients will greatly benefit from this partnership."
Contegix provides custom and strategic cloud, colocation and managed hosting solutions for a wide variety of industries, ranging from small business owners and start-ups, to Fortune 100 companies. Widely known for their Go Beyond™ service and support, Contegix also offers an array of managed services such as supporting dedicated hardware, operating system management, deploying and configuring software, managed data protection and offering complete licensing management.
"We are proud to provide the same, premier DNS infrastructure to all of our cloud and managed customers that powers some of the world's largest websites, including CNBC, Twitter, and 37Signals. Combined with our existing network infrastructure, this increases the availability and speed of our customers' infrastructures," said Matthew Porter, CEO of Contegix. "Dyn provides the same level of care and commitment to DNS as we do for cloud and managed hosting. They understand our mission to maintain the highest level of uptime and fastest response."
Ask your Contegix representative how you can bring Dyn into your overall infrastructure strategy.
About Dyn
Dyn solutions are at the core of Internet Performance. Through traffic management, message management and performance assurance, Dyn is connecting people through the Internet and ensuring information gets where it needs to go, faster and more reliably than ever before. Incorporated in 2001, Dyn's global presence services more than four million enterprise, small business and personal customers. Visit dyn.com to learn more about how Dyn delivers.
Dyn Media Contact
Adam Coughlin | acoughlin(at)dyn(dot)com | 603.714.5798
About Contegix
Contegix is a cloud computing, colocation and managed hosting company that empowers customers by embracing the Go Beyond philosophy of unmatched passionate, proactive service and solutions.