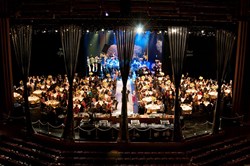 Vienna, Virginia (PRWEB) September 09, 2013
Wolf Trap Foundation for the Performing Arts, in partnership with the Embassy of France and in cooperation with the National Park Service, announces the 2013 Wolf Trap Ball. The event will be held on Saturday, September 21 on the 27,000+ square-feet Filene Center stage at Wolf Trap National Park for the Performing Arts. The 42nd-annual Wolf Trap Ball, the organization's largest fundraiser, will celebrate the arts and culture of France. Proceeds from the event will benefit Wolf Trap Foundation arts and education programs.
"We are delighted to honor France's rich history and contributions to the arts, and to welcome each of our guests to the Wolf Trap stage. Their involvement and generous support make it possible to bring diverse performing arts programs to the local community, as well as innovative arts education to the next generation through our unparalleled national teaching programs," said Wolf Trap Foundation President and CEO Arvind Manocha.
His Excellency François Delattre, Ambassador of France, will serve as the Honorary Host.
"It is my hope that you will join me in supporting this unique and spectacular black-tie event—an event that not only welcomes nearly 1,000 prominent and influential individuals from Washington and beyond, but also makes the many programs offered by Wolf Trap Foundation at America's National Park for the Performing Arts possible," Delattre said.
The event is Co-chaired by Wolf Trap Foundation Board Member The Honorable Sean O'Keefe, Wolf Trap Foundation Board Alumna Karen Schaufeld, and Wolf Trap Associates Board Member Kimberly H. Stewart. Honorary Co-hosts include The Honorable Sally Jewell, Speaker John A. Boehner, and Senate Majority Leader Harry Reid.
Guests will be treated to a performance by Wolf Trap Opera Company singer and former Filene Young Artist Mireille Asselin. Fresh off her triumphant portrayal of Nannetta in Wolf Trap Opera Company's production of Falstaff, the rising young star was also featured in Steven Blier's recital Wonders To Wander To this summer. Asselin's recent credits include appearances in Canadian Opera Company's La clemenza di Tito as Servilia and Die Fledermaus as Adele.
For this special evening, the Filene Center stage will pay homage to one of Europe's most iconic and enduring performing arts venues, Paris's majestic Palais Garnier. Banners at the proscenium of the Filene Center stage will feature the deconstructed painting The Ballet Scene from Meyerbeer's Opera "Robert Le Diable" by Edgar Degas.
In keeping with the theme, dinner will feature cocktails, including the French 75 and iconic Sidecar; foie gras, and a selection of fine cheeses, pâtés, and crêpe hors d'oeuvres; and a three course meal including sea scallop with duck confit, beef rossini, and a decadent caramel chocolate dessert. Dinner will be complemented by French wines donated by Total Wine & More. They include the Salmon Sancerre Vieilles Vignes from Loire Valley and the Château Landat Haut-Médoc 2006, which received 90 points from Wine Enthusiast.
Proceeds from the Ball benefit Wolf Trap Foundation's renowned arts and education programs, including the Wolf Trap Institute for Early Learning Through the Arts. Wolf Trap's Institute programs have served millions of preschool and Kindergarten children, teachers, parents, and caregivers around the country and abroad, using performing arts disciplines such as drama, music, and movement to enhance academic and social skills. Similarly, Wolf Trap's artistic initiatives range from eclectic multi-genre performances to classical, opera, and dance productions with a strong emphasis on commissioning new works and addressing the need for varied and ground-breaking performing arts programs in our community. Each year the Wolf Trap Ball attracts a diverse guest list of philanthropic, business, political and cultural leaders, generating approximately $1 million in support of these programs.
Additional Honorary Co-Hosts for the ball include: Senator Max Baucus, Senator Thad Cochran, Senator Barbara A. Mikulski, Senator Tim Johnson, Senator Charles E. Schumer, Senator Bill Nelson, Senator Richard Burr, Senator Benjamin L. Cardin, Senator Tom Coburn, Senator Tom Udall, Senator Mike Johanns, Senator Mark R. Warner, Senator Sherrod Brown, Senator Roger F. Wicker, Senator Jeanne Shaheen, Senator Michael F. Bennet, Senator Angus S. King, Jr., Senator Tim Kaine, Congressman John D. Dingell, Congressman John Conyers, Jr., Congressman Henry A. Waxman, Congressman Nick J. Rahall, II, Congressman Tom Petri, Congressman Frank Wolf, Congressman Fred Upton, Congressman Jim McDermott, Congressman James P. Moran, Congressman Collin C. Peterson, Congressman Ed Pastor, Congressman Spencer Bachus, Congresswoman Corrine Brown, Congresswoman Anna G. Eshoo, Congressman Gene Green, Congressman John L. Mica, Congresswoman Lucille Roybal-Allard, Congressman Ed Royce, Congressman Lloyd Doggett, Congressman Chaka Fattah, Congressman Alcee L. Hastings, Congresswoman Sheila Jackson Lee, Congressman Tom Latham, Congressman Elijah Cummings, Congressman Earl Blumenauer, Congresswoman Diana DeGette, Congresswoman Kay Granger, Congressman Ron Kind, Congresswoman Loretta Sanchez, Congressman John Shimkus, Congressman Gregory W. Meeks, Congressman Robert A. Brady, Congressman Mike Rogers, Congressman Adam Schiff, Congressman Stephen F. Lynch, Congressman Jeff Miller, Congressman Tim Bishop, Congressman Marsha Blackburn, Congressman Tom Cole, Congressman Chris Van Hollen, Congresswoman Virginia Foxx, Congressman Michael T. McCaul, Congresswoman Doris Matsui, Congressman Stevan Pearce, Congressman Bruce Braley, Congressman Steve Cohen, Congressman Henry C. "Hank" Johnson, Jr., Congressman Doug Lamborn, Congressman Mike Coffman, Congressman Gerald E. Connolly, Congressman Gregg Harper, Congressman Leonard Lance, Congresswoman Chellie Pingree, Congressman Jared Polis, Congressman Thomas Rooney, Congresswoman Carol Shea-Porter, Congresswoman Renee Ellmers, Congressman Michael Grimm, Congressman Richard L. Hanna, Congressman Adam Kinzinger, Congressman Alan Grayson, Congresswoman Tammy Duckworth, Congressman Mark Meadows, Congresswoman Gloria Negrete McLeod, Congressman Pedro R. Pierluisi, and Mayor Vincent Gray.
The Ball's Lead Sponsor is Airbus. Other Major Sponsors include Daniel and Gayle D'Aniello, Exxon Mobil Corporation, Capital One, National Counseling Group, Hillary and Tom Baltimore, The Collis Warner Foundation, The Pence Group, The W. Russell and Norma Ramsey Foundation, Karen and Fred Schaufeld, Staybridge Suites McLean Tysons Corner, and Total Wine & More.
For more details on reserving a seat or table at the Ball, contact Wolf Trap Special Events at 703.255.4030 or events(at)wolftrap(dot)org.
This fall Wolf Trap will host two more fundraising events to benefit its mission of bringing the arts and education to the community. This includes Wolf Trap Fall Fest: The Barn Party on September 28, 2013 and the 16th Annual Golf Tournament on October 21, 2013.
About Wolf Trap Foundation for the Performing Arts
Wolf Trap Foundation for the Performing Arts, a 501(c)(3) nonprofit, founded by Catherine Filene Shouse (1896-1994), produces and presents a full range of performance and education programs in the Greater Washington area, as well as nationally and internationally. Wolf Trap features three performance venues, the outdoor Filene Center and Children's Theatre-in-the-Woods, both located at Wolf Trap National Park for the Performing Arts, and The Barns at Wolf Trap, located down the road from the national park and adjacent to the Center for Education at Wolf Trap. The 7,028-seat Filene Center is operated in partnership with the National Park Service and annually showcases an extensive array of diverse artists, ranging from pop, country, folk, and blues to classical music, dance, and theatre, as well as multimedia presentations, from May through September. The Barns is operated by the Foundation year round, and during the summer months is home to the Grammy-nominated Wolf Trap Opera Company, one of America's outstanding resident ensemble programs for young opera singers. Wolf Trap's education programs include the nationally acclaimed Wolf Trap Institute for Early Learning Through the Arts, Children's Theatre-in-the-Woods, a diverse array of arts education classes, grants, and a nationally recognized internship program that was included in Bloomberg BusinessWeek's 2009 List of "Best Places to Intern." As part of its ongoing commitment to protect and preserve the environment, Wolf Trap offers metro access and is a founding member of the Green Music Group. Wolf Trap Foundation is supported in part by the Virginia Commission for the Arts and the National Endowment for the Arts.
Visit the Wolf Trap website at wolftrap.org for more information.
[ON-SITE NEWS MEDIA COVERAGE IS ENCOURAGED]
**RSVP required to laurenw(at)wolftrap(dot)org**
###