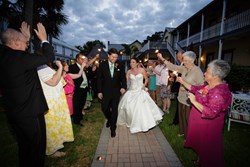 Sparklers can be a great way to say goodbye to the happy couple but it's important to use them safely.
St. Augustine, FL (PRWEB) September 24, 2013
Looking for a cinematic exit for your upcoming wedding, the type of recessional retreat that provides one last photogenic moment before the day is over?
The Bayfront Marin House, a 15-room bed and breakfast located in St. Augustine, Florida, has recently updated their wedding packages to include exit strategies for the newly married couple, including sparklers, colorful pom-poms in popular school colors, and whimsical "magic wands".
"The exit is one final way for a couple to show their personalities during their special day," says Sandy Wieber, owner of the St. Augustine bed and breakfast. The bed and breakfast also offers bubbles, eco-friendly confetti, and flower petals.
"I love a farewell tunnel," says Wieber, because it clearly marks the end of the event, and it's a great way to pull all of the wedding guests together as the couple exits."
Sparklers are currently the bride's favorite, but Wieber warns that they can be catastrophic. "One of the photographers we work with frequently actually caught his pants on fire during a sparkler exit at another venue," says Wieber. "As beautiful as they are, they can be dangerous."
To keep the exit pretty, and not pretty scary, Wieber recommends remembering the six guidelines below for using sparklers as your exit strategy:
1. Get long sparklers. Short ones are more likely to burn your hands, and more likely to fizzle before the bride can find the groom (or the other way around–someone is always talking to someone in the dining room!) and both of them can exit.
2. Have multiple lighting stations. If you want the couple to walk down a runway effect, line people on both sides and distribute lighters to every third person. This way, everything is lit quickly–the first person lights theirs, and the two people on each side light their sparklers with the others (again, it's good to have longer sparklers so that no one gets burnt).
3. Make sure your photographer is ready before the lighting begins! Ask for a verbal "I'm good!" to be sure. There's nothing worse than having the couple exit, only to learn the photographer was changing lenses.
4. Keep guests/sparkler holders in a straight and formal line. You don't want the photographer backing up into a randomly placed sparkler as they try to get the perfect shot.
5. Little kids and sparklers don't mix. They hold them too close to the burning end, they throw them at the ground, they poke them towards the bride and groom as they pass. Better to hold very little ones so they can watch the excitement, without *being* the excitement (the person holding the child should not have a sparkler either).
6. Have a bucket with water behind each line of people so that they can drop their sparklers in it to extinguish them. Feel free to decorate the bucket if you're running with a theme.
Finally, Wieber recommends letting other vendors know that sparklers will be part of the celebration. "Couples who have weddings in St. Augustine frequently leave the reception in a beautiful horse and carriage," says Wieber. "Horses are not fond of fire--so if you have animals involved in the ceremony in any way, we recommend using one of the other exit options."
More Information about the Bayfront Marin House
The Bayfront Marin House in Saint Augustine, Florida is a 15-room, luxury bed and breakfast inn. Located on the Matanzas Bay, the bed and breakfast offers stunning views of the water, along with a hot southern breakfast each morning, daily happy hours, delicious desserts, and the highest levels of personalized customer service. The lodging has recently been awarded TripAdvisor's Certificate of Excellence for 2013. Reservations can be made at 904.824.4301, or by visiting http://www.bayfrontmarinhouse.com.