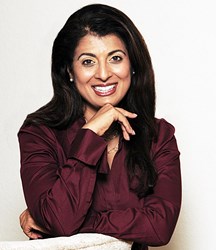 My journey to healing took me around the world: life-saving surgery in Seattle, introduction to meditation in Cambodia, practicing yoga in Bali, and learning mindfulness in Thailand. - Dr. Romila Mushtaq
Hilton Head Island, SC (PRWEB) September 10, 2013
Neurologist and health and wellness speaker Dr. Romila "Romie" Mushtaq will speak on the importance of the mind body connection to health and wellness when she visits Hilton Head Health (H3) Friday, October 4th at 7pm. Hilton Head Health is the nation's leading weight loss resort. Established in 1976, it was the first weight loss program to emphasize the importance of the Mind Body Connection.
Over the past 37 years H3 has brought stress management, empowerment, longevity and fulfillment to the forefront. Dr. Mushtaq's presentation will further the H3 mission by translating complicated neuroscience and medical data into easy to comprehend knowledge. Her lecture, "Empower Your Brain - Transform Your Body," will be held on Friday, October 4th at 7pm. Seating is limited to the first 75 guests to reserve a seat by calling 800-292-2440.
Dr. Mushtaq completed a neurology residency at the Medical University of South Carolina, followed by an Epilepsy fellowship at University of Pittsburgh Medical Center and the University of Michigan. "I was running through my career at the speed of lightning, not paying attention. I was starting to suffer early symptoms of physician burn-out," says Dr. Romie. "Then, physical symptoms of a rare and serious illness brought my faced-paced, unbalanced and unhealthy life to a pause."
Dr. Mushtaq shares her expertise through heart-warming and humorous stories, interactive audience exercises, and wisdom handed down from the influential women in her life. "On my journey from being a doctor to becoming a patient, I discovered the importance of the mind body connection in healing," commented Dr. Romie. "My journey to healing took me around the world: life-saving surgery in Seattle, introduction to meditation in Cambodia, practicing yoga in Bali, and learning mindfulness in Thailand."
To learn more about the "Empower Your Brain – Transform Your Body" presentation at Hilton Head Health or to reserve a space email getinspired(at)hhhealth(dot)com.
About Hilton Head Health:
For over 35 years, Hilton Head Health has been recognized as the premier weight loss and health retreat in the United States. Most recently, Hilton Head Health was featured on A&E's weight loss docudrama HEAVY, which aired in spring 2011. Voted as "Best for Weight Loss" for the past five consecutive years by SpaFinder and "Top 5 US Health Spas" by Lisa Drayer on the Today Show, Hilton Head Health is an exclusive resort delivering individualized experiences in the areas of Fitness, Nutrition and SELF (Stress management, Empowerment, Longevity, Fulfillment). For more information, please call 800-292-2440.