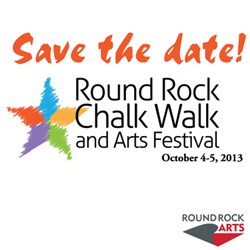 Round Rock, TX (PRWEB) September 09, 2013
The 4th Annual Round Rock Chalk Walk will be held in downtown Round Rock on October 4 and 5.
Chalk Art - The Chalk Walk is the Round Rock Arts Council's version of an Italian Street painting Festival. Artists create, with chalk pastels, works of art on the concrete. Drawings are created in full view of the public, who are encouraged to interact with the artists as they use their amazing talents to create beautiful "murals" before their audience's eyes.
Friday Night Highlights – New for this year is the Friday night party "Blues, Brews and BBQ" – featuring delicious barbeque and music by the the Belltower Trio.
The Biscuit Brothers headline Saturday's activities. Chalk artists, local musicians, visual artists, crafters, food vendors, jugglers, trick dogs, mini horses, street performers and separate activity areas for adults and children are key features of this event. Confirmed musical acts include the seventeen piece Monster Big Band, Inside Out Steel Band, Biltmore Blues, Flight 19, Paul Koudouris and One Resistance. The event is free.
Saturday Art Auction - Selected artists, school art programs & teachers, individuals and businesses create a work of art to be auctioned off for art program funding. Each item is judged and has a chance to win cash awards. Bidding starts at 6 p.m. on Saturday at the Plaza main stage.
Key sponsors of the event include the City of Round Rock, Community Impact, H E B Food Stores, Jerry's Artarama, AAA of Texas, University Federal Credit Union, Larry Gonzales for Texas House of Representatives, Corner Bakery, Snappy Snacks Mobile Catering, Texas Commission of the Arts, R Bank, The Greater Round Rock Community Foundation and Round Rock Arts.
Proceeds from the event benefit visual and performing art programs in Round Rock.
Visit http://www.roundrockchalkwalk.com for opportunities to sign up as artists, vendors, or to learn more about the Take a Seat contest.
Sponsorships and vendor spaces are still available. Call 512-689-2450 or go to http://www.roundrockarts.org.
Thank you.
4th Annual Chalk Walk, Downtown Round Rock
Friday, October 4, 2013 - 2:00 – 9:00 PM
Saturday, October 5, 2013 - 10:00 AM – 7:00 PM
Contact: Erica Stall Wiggins, erica(dot)s(dot)wiggins(at)gmail(dot)com or 512-947-8317