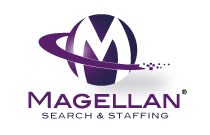 The new website is colorful, contemporary and full of information for Philadelphia metro employers and job seekers.
Philadelphia, PA (PRWEB) September 10, 2013
Magellan Search & Staffing, an award-winning provider of contract, consulting, temporary and direct hire staffing and recruiting services in the Tri-State area around metro Philadelphia, has proudly launched a contemporary, informational and easy-to-use website, created with Haley Marketing Group.
The bold navigation for the site features a custom drop-down menu, enabling any client or job seeker to find the information they need fast. Portals for each of Magellan's six divisions display vibrantly, providing quick access to information. Job seekers will find easy access to Magellan's latest job postings and employers can request talent right on the homepage. Blog posts with images guide users to specialized content for all of the industries Magellan serves, company news and career advice.
With ease of navigation a primary goal for the project, Magellan provides relevant information to job seekers and employers researching their six divisions. Each division's pages are cleverly color coded to their logo for easy-on-the eye navigation with a contemporary and relaxing feel.
The custom Meet the Team page prominently features one staff member as well as a directory listing each Magellan recruiter with links to their contact information, bio and interesting facts – all in the interest of allowing the candidates and clients they work with to better know the Magellan team.
"We wanted our website to best reflect the Magellan culture as well as the exceptional service job seekers and clients receive when they work with us. I'm pleased to say we've done that," says Matthew Kenefic, President of Magellan Search & Staffing.
Magellan Search & Staffing sought to create a contemporary, creative and informative website. This new buzzworthy site will without question catch the attention of clients and candidates – leading the way for more acclaim for this growing company. If you are looking for the top employment agencies in Pennsylvania, contact Magellan Search & Staffing today.
---
About Magellan Search & Staffing
Magellan Search & Staffing has offices in Plymouth Meeting and Philadelphia, PA. Magellan has a reputation for excellence in Pennsylvania, New Jersey and Delaware, and throughout the continental United States.
The company has strategically expanded its search and staffing services, placing accounting, finance, administrative, IT, human resources, mechanical, construction, and renewable energy and professionals into rewarding direct hire, consulting, contract and temporary positions. In addition, they now offer an outsourced HR staffing option.
In recent years, Magellan has won a number of coveted business awards, including being named to the 2013 Best of Staffing Lists for Clients and Talent, 2013 Inc. 500 I 5000 list, the 2012 Philadelphia 100 List, and the 2013 Top Executive Recruiters list.
Magellan Search & Staffing's success is attributed to the high level of professionalism, ethics, and the innate ability of its recruiters to understand the unique needs of both clients and candidates.
If you would like more information, or want to schedule an interview with Magellan Search & Staffing, please call 610.941.0100, email Brittan Anderson at success(at)magellansearchgroup(dot)com, or visit Magellan online at magellangroup.com.