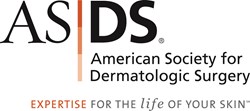 These four non-invasive procedures are among the initial steps used by dermatologic surgeons to slow the skin's aging process.
Rolling Meadows, Ill. (PRWEB) September 10, 2013
More consumers are choosing non-invasive cosmetic treatments as they seek to improve skin tone and smooth wrinkles, according to survey data from the American Society for Dermatologic Surgery.
Microdermabrasions, wrinkle-relaxing injections, chemical peels and laser/light procedures rank as the top four cosmetic treatments, according to the 2013 ASDS Consumer Survey on Cosmetic Dermatologic Procedures. The blind online survey of more than 6,300 consumers asked for opinions on cosmetic treatments in general and ratings for 10 specific procedures.
"We are not surprised these were the top choices. These four non-invasive procedures are among the initial steps used by dermatologic surgeons to slow the skin's aging process," said ASDS President Timothy C. Flynn, M.D.
Consumers most frequently seek microdermabrasions, where tiny exfoliating crystals are sprayed on the face to refresh skin tone and treat age spots. Not only are four out of five respondents satisfied with their microdermabrasion results, but half of survey respondents who have never had the rejuvenation procedure say they are considering it.
Wrinkle-relaxing injections – where neuromodulators smooth selected facial muscles – rank as the next-most-popular treatment. With results that can last up to four months and sometimes longer, 92 percent of consumers say they are satisfied with the procedure – the highest satisfaction rating among all 10 categories.
"Wrinkle-relaxing injections are rapidly growing in popularity. Last year, ASDS members performed 1.5 million neuromodulator treatments – a nearly 25 percent increase over the previous year," said Dr. Flynn. "We predict these numbers will continue to rise as three of every five respondents in our survey say they are considering getting a wrinkle-relaxing injection."
Ranking third in popularity and earning an 86 percent satisfaction rating, chemical peels use a solution that removes the outer layer of facial skin to provide a refreshed, smoother look. Not only did ASDS members perform 414,000 chemical peels in 2012, but nearly half of the survey respondents say they are considering undergoing a chemical peel in the future.
Many consumers also are choosing laser/light procedures to help reduce fine lines, wrinkles, blemishes and pigmentation through direct, short, concentrated, pulsating light beams. Nearly two-thirds say they are considering having a laser/light procedure, and four out of five who underwent a treatment say they are satisfied with the results. The popularity of laser/light treatments has been steadily growing, with ASDS members performing nearly 1.7 million laser/light procedures in 2012 – a 5 percent increase over the previous year.
"When patients consider surgical or non-invasive procedures, they seek the expertise of ASDS member dermatologic surgeons," Dr. Flynn said. "Fortunately, ASDS members have the training and expertise to guide patients through the full spectrum of available cosmetic treatments. We are the skin experts."
About the ASDS
The American Society for Dermatologic Surgery is the largest specialty organization exclusively representing dermatologic surgeons who have unique training and experience to treat the health, function and beauty of the skin. ASDS members are pioneers in the field. Many are involved in the clinical studies that bring popular treatments to revitalize skin and fill and diminish wrinkles to the forefront. Their work has helped create and enhance many of the devices that remove blemishes, hair and fat, and tighten skin. ASDS members also are experts in skin cancer prevention, detection and treatment. As the incidence of skin cancer rises, ASDS members are committed to taking steps to minimize the life-threatening effects of this disease. For more information, visit asds.net.