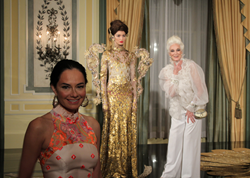 Down below, the nearly pitch-black room obscured most ensembles apart from Dr. Lisa Airan's fiery florescent Erdem-WWD.
New York, NY (PRWEB) September 10, 2013
With the cool September winds blowing in, the crisp change in weather can only mean one thing: Fall Fashion Week has hit New York City. A perfect excuse to break out those long dormant layers, the fashion set has been hitting the Lincoln Center pavement, pausing for the requisite photos between shows and the glamorous after parties. One such fixture on the scene is Dr. Lisa Airan, a favorite dermatologist for the fashion set. With her jet black hair, porcelain skin, and bold sartorial choices, Dr. Airan has been making a chic splash on the scene for years.
Ushering in this season in true style, Dr. Airan picked a neon Erdem shift, deemed by Women Wear Daily's Taylor Harris as "fiery florescent" and Vogue's Chloe Malle as "glowing." The ensemble was ideal for the event of the night, China Fashion Night, promoting Chinese fashion design and relations between the East and West, held at The Pierre Hotel. The event honored designer Vivienne Tam and featured a fashion show showcasing avant garde creations drawing on traditional roots and customs for inspiration from noted Chinese designer Guo Pei. Each piece was a glittering work of art, complete with sky high porcelain shoes to match. Some dresses were so laden with embellishments that it seemed a miracle when each girl reached the end of the relatively short runway.
Following this event, Dr. Airan and her dashing escort, husband Dr. Trevor Born ended the night at Saks Fifth Avenue for a Dior event hosted by Jessica Biel.
Stay tuned for a detailed description of Dr. Airan's daily Fashion Week exploits and her wardrobe choices. Follow the doctor on Facebook, Twitter, Pinterest, YouTube, and Instagram for daily live updates.
About Dr. Lisa Airan:
Dr. Lisa Airan is a board-certified, world-class cosmetic dermatologist practicing in Manhattan and beauty expert who offers a wide range of services to her much-valued patients.
A dermatologist whose Manhattan office specializes in aesthetic dermatology including BOTOX® Cosmetic and injectable fillers such as Restylane®, Radiesse® and JUVÉDERM®, Dr. Airan also performs laser hair removal in New York and uses lasers for scars, blood vessels, and reversal of sun damage. She performs Thermage® skin tightening, sclerotherapy, acne treatment, chemical peels, GentleWaves, general dermatology, and skin cancer surgery.
Her high profile clients include a who's who list from the fashion industry, entertainment industry, A-list celebrities and modeling world. Best known for her 5 points to good living, Dr. Airan advocates balance through a healthy diet, regular exercise, spirituality, stress reduction, and cosmetic dermatology.