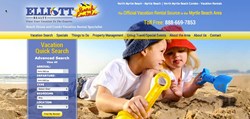 We are very proud of the end result which not only reflects an up to date design, but we believe allows vacationers to easily plan their next trip to North Myrtle Beach.
North Myrtle Beach, South Carolina (PRWEB) September 10, 2013
Elliott Realty, a leading full service vacation rental and real estate company headquartered in North Myrtle Beach, South Carolina for over fifty years, is proud to announce the launch of their completely redesigned and upgraded flagship website for North Myrtle Beach vacation rentals – NorthMyrtleBeachTravel.com.
Redesigned to help visitors to the North Myrtle Beach area better find the professionally managed beach home or condo for their next vacation, the site not only features a completely new and updated modern design, but additional tools to help travelers make their vacation home choice.
New to the site is a Winter Rental Search that will help 'Snow Birds' find the right accommodations for spending October - March in North Myrtle Beach. Those interested in coming to the beach for a month or more in the winter to escape the inclement weather can find properties that cater to this specific travel segment and reserve a property online. Elliott Realty has also added several pages of valuable information on winter rentals including what to expect and the opportunities for winter golf, dining and shopping.
The site also features easy home page access to frequently requested searches such as pet friendly vacation rentals, homes with pools, and luxury vacation rentals. Visitors to the site can also quickly learn about discounts only available to clients of Elliott Beach Rentals with Elliott Rewards Card and can easily access Elliott Realty's GuestNet™ which allows registered users to plan their vacation and save searches.
"Our team at Elliott Beach Vacations has been focused on bringing our clients and homeowners this redesigned site for a long period of time," stated Rick Elliott, President of Elliott Realty. "We are very proud of the end result which not only reflects an up to date design, but we believe allows vacationers to easily plan their next trip to North Myrtle Beach whether it be the height of summer, a fall get-away or enjoying our moderate winter. We hope our clients enjoy the site as much as we do."
About Elliott Realty
Elliott Realty has been specializing in vacation rentals, winter rentals, golf packages and real estate sales since 1959. The company was founded on a simple premise that still rings true today "Service you expect. People you trust."
Myrtle Beach Vacation Rentals: Elliott Realty's newest division specializes in the professional management and marketing of vacation rentals in the Myrtle Beach area.
Elliott Beach Rentals: Trust your vacation to the experts: Elliott Beach Rentals specializes in vacation rentals and professional resort rental management in the North Myrtle Beach area.
Better Homes and Gardens Real Estate Elliott Coastal Living: Our involvement in the community, knowledge of the real estate market, and care in meeting the needs of our customers and clients have enabled us to enjoy a fine reputation across the state.
Myrtle Beach Golf Authority offers the best Golf Packages in the Myrtle Beach area and can accommodate large and small golf groups.
Myrtle Beach Last Minute Vacation offers the best availability and pricing to travelers who are looking to book less than thirty days in advance of arrival.
This press release formatted and submitted by Visual Data Systems (http://www.VisualDataSystems.com), the leader in online marketing for the vacation rental industry.