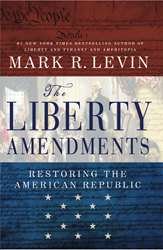 'It is apparent that in Washington and most political capitals TIME in office = POWER.' - Mark Levin
Los Angeles, CA (PRWEB) September 09, 2013
In the first chapter of "The Liberty Amendments: Restoring the American Republic," Mark Levin proposes term limits for members of Congress, a position 12 is Enough continues to pursue.
Levin's book, just released, outlines his thoughts on how to improve America with new Amendments to the Constitution, including one that would establish term limits.
His proposed wording includes "SECTION 1: No person may serve more than twelve years as a member of Congress, whether such service is exclusively in the House or the Senate or combined in both Houses."
And "SECTION 2: Upon ratification of this Article, any incumbent member of Congress whose term exceeds the twelve-year limit shall complete the current term, but thereafter shall be ineligible for further service as a member of Congress."
The book goes into detail about incumbents in Congress. In chapter two, Levin lays out a concise and persuasive case for Congressional term limits, citing the lack of rotation, gerrymandering, power of the incumbency, special interest money and seniority.
The bottom line, he says, is "It is apparent that in Washington and most political capitals TIME in office = POWER." He calls for a limit of 12 years maximum in the Congress that can be split between both the House and Senate.
With 85 percent of House incumbents from both parties reelected in 2010 and 84 percent from the Senate, the issue has never been more timely, says Ian Clark, founder of the term limits group 12 is Enough.
"The thing that I like about this part of the book is not only does it focus on term limits, it talks about limiting that time to 12 years in office. I think the problem a lot of other term limit groups run into is they leave the amount of time up in the air. We wanted to put it right in the name of our group. Let the people know what the plan and goal is."
When Mark Levin discussed his book on the Fox News show Hannity on Aug 16 2013 he said, "Because we have these governing masterminds, this professional ruling class, and when you look at the Framers, there was never supposed to be a professional ruling class. There was this thing, rotation, in-and-out of office. That's why Senators serve six years, Congressmen two years. They didn't have term limits back then because it never occurred to them you would have Senators serving 36, 42 years or members of the House 20, 30, 40 years. It didn't even occur to them. They felt strongly about a citizen legislature."
Clark continued, "The reason that I think term limits will ultimately prevail is that it cuts through the two party idea in America. If Mayor Corey Booker and a conservative like Mark Levin can agree on term limits that's a great thing for America. It improves Congress and doesn't give an advantage to either political party. I hope to see more people talking about term limits in the future."
About 12 is Enough:
12 is Enough has the goal of ending career politics in Washington with term limits. The group was founded by Ian Clark, a leader in the term limit movement. To learn more about the organization, please visit http://www.12isEnough.com for more information.