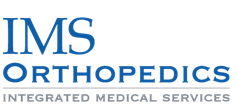 "We are excited to roll out our latest changes as IMS Orthopedics. We strive to provide patients with the most up-to-date, technologically savvy care to ensure optimal results and efficient recovery."
Phoenix, AZ (PRWEB) September 10, 2013
Valley Orthopedics, a local full-service orthopedic group with four valley wide locations, announced in September the much anticipated name change and brand update to IMS Orthopedics. IMS Orthopedics will have the same experienced physicians and high quality services, only with an updated business name and look. With advances in technology and recent changes with Integrated Medical Services, this change will benefit patients across the valley and provide an even stronger system of care.
IMS Orthopedics is a division of Integrated Medical Services (IMS), a physician-led organization united through its providers' commitment to high-quality, innovative health care. Practice Administrator, Shellie Clayton, stated, "We are excited to roll out our latest changes as IMS Orthopedics. We strive to provide patients with the most up-to-date, technologically savvy care to ensure optimal results and efficient recovery."
The name change, and brand color updates, are the first of a few changes IMS Orthopedics will be undergoing in the upcoming months. To stay informed on what's to come, visit http://www.imsorthopedics.com.
ABOUT IMS ORTHOPEDICS
IMS Orthopedics offers experienced, dedicated, and advanced orthopedic care by fellowship-trained surgeons. Expertly trained in Hip, Knee and Shoulder Joint Replacement Surgery, Surgical & Non-Surgical care of the Wrist and Upper Extremity, Sports Medicine, Spine Surgery, Arthroscopic Surgery, and Fracture Care, our physicians provide the most advanced musculoskeletal care to our patients, including hip resurfacing, minimally invasive and highly sophisticated computer assisted and arthroscopic techniques. We are proud to partner with our patients in their orthopedic care and serve the communities in which we live.
###