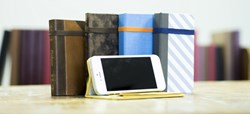 There's a reason people think these are awesome iPhone Cases
St Louis, Missouri (PRWEB) September 10, 2013
The timing had been planned for months. Coordinated with Apple's announcement of the iPhone 5S and iPhone 5C, premium handmade iPad and iPhone case maker, Portenzo, announced on Twitter and Facebook that they'd be creating their full line of book cases for the new iPhone. Fans of the fully customizable cases were obviously ready as well. They began to place pre-orders on shop.Portenzo.com just moments after the iPhone 5S and iPhone 5C made their first public appearance.
"This is the kind of thing you have to plan for," Portenzo owner and artist, Darin Murray said. "Our clients are very tech savvy and tend to upgrade their iPads and iPhones immediately. Being able to order our iPhone cases when they have their new phones in hand is important to us," Murray noted. The challenge for Portenzo is that the custom and handmade designs are expected to meet an exacting standard. "There's a reason people think these are awesome iPhone cases," says Murray, "Every design and engineering detail is meticulously thought out. It has to leave Portenzo studios absolutely perfect."
The iPhone 5S and iPhone 5C line will include all of the same design and innovative features as Portenzo's previous iPhone collection including the incredibly thin Alano SLIM with optional wallet and, Portenzo's newest iPhone case, the HardBack. "We're excited for new iPhone users to experience our iPhone cases" notes Murray. "While Portenzo is well known for the quality of our book bound iPad cases, our HardBack iPhone cases are our best designs yet. Once you have one on your phone, you can't go back."
Portenzo iPhone 5S and iPhone 5C Cases are available to order now.
Portenzo, the original made-to-order case company and makers of hand-crafted iPhone, iPad, iPad Mini, Nexus 7, Nexus 10 and Kindle cases have been innovating the premium case industry since 2010. Founded by artist Darin Murray, every unique case that leaves Portenzo studios has been meticulously cared for by Portenzo craftsmen from the first cut to the last stitch. Portenzo Cases are proudly made in Saint Louis, Missouri, USA.