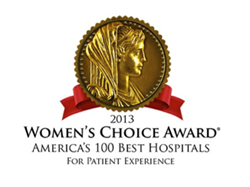 West Jordan, Utah (PRWEB) September 09, 2013
Jordan Valley Medical Center earns the honor of the Women's Choice Award seal for America's 100 Best Hospitals for Patient Excellence by WomenCertified®, an award program for businesses that support the empowerment of women in the community and set the highest standards of excellence.
"Jordan Valley Medical Center is proud to be included in the 100 Top Hospitals for Patient Experience. It is important to our providers and staff that we provide excellent, compassionate care to all of our patients. We are honored to carry the seal of WomenCertified®," said Steven Anderson, CEO of Jordan Valley Medical Center.
For 30 years, Jordan Valley Medical Center has provided care to women in Utah, specifically through the Women's Center and the Breast Care Center. The Breast Care Center is the first center in the Salt Lake area to provide women with comprehensive breast health care, including preventive screenings, diagnostic and treatment services, educational programs, and support services. Additionally, Jordan Valley Medical Center has a new Level III NICU, the highest possible designation for intensive care neonatology, in the Women's Center. This NICU features 11 individual suites for newborns and their families. Mothers are provided a private room for breast pumping, and parents are housed in transition rooms that allow them to "live in" with their babies while in the NICU.
About Jordan Valley Medical Center
Jordan Valley Medical Center is a 183-bed, state-of-the-art hospital located in West Jordan, Utah. Jordan Valley Medical Center is equipped with the most advanced medical technology and offers comprehensive health care services, including emergency care, cardiac care, orthopedic care, advanced surgical procedures, diagnostic imaging, maternity care, sports medicine, and help for a broad range of medical conditions. With an experienced medical staff of more than 523 and a dedicated health care team, Jordan Valley Medical Center is committed to providing high-quality care in a friendly hospital environment. For more information, visit jordanvalleymc.com or call 1-866-431-WELL (9355). Follow Jordan Valley Medical Center on Facebook at http://www.facebook.com/jordanvalleymedicalcenter.
About WomenCertified®, Inc.
WomenCertified's mission is to give women a collective voice, so they can help each other identify businesses and institutions that deserve loyalty and referrals. WomenCertified is a trusted referral source for hospitals, businesses and brands that women would recommend.
###