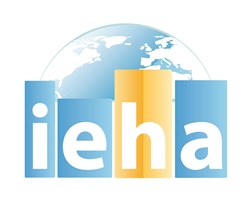 'The HHH Certification builds upon the robust platform of IEHA facilities skills training, but adds structural elements for more healthful care of indoor environments of hotels' - Allen Rathey, President, Healthy Facilities Institute (HFI)
Westerville, OH (PRWEB) September 10, 2013
IEHA and Phoenix-based Best Western International (BWI) are partnering to produce the first Healthy Hotel Housekeeper (HHH) Certification, with the goal to make hotel environments cleaner and healthier by empowering housekeeping professionals with knowledge and training, supported by an ongoing certification program administered by IEHA.
Best Western International (BWI) - representing more than 4000 hotels globally, and some 2,200 domestic properties - is the largest midscale hotel chain in the world, and the IEHA Healthy Hotel Housekeeper (HHH) Certification Level One (HHH L1) will be offered first to BWI's US Directors of Housekeeping (DOHs) in tandem with BWI's membership commitment to IEHA, and IEHA's historic commitment to IEHA-members' professional growth.
According to IEHA CEO and Executive Director Beth Risinger: "IEHA is pleased to collaboratively develop - with BWI as a pioneering hotel and market leader - this unique IEHA 'Healthy Hotel Housekeeper (HHH) Certification' program. We applaud and thank Best Western for assisting us in continuing to provide educational and training products of excellence in the hospitality field."
According to Allen Rathey, president of The Healthy Facilities Institute (HFI), serving as the lead content developer in collaboration with IEHA and BWI: "The HHH certification simplifies and builds upon the broad and robust platform of professional facilities leadership and skills training developed by the non-profit IEHA, but adds structural elements essential to more healthful care and cleaning of indoor environments of hotels."
"With the introduction of our I Care Clean® program, our mission was to empower our housekeeping professionals with the tools and training to help ensure we continue to win customer satisfaction, loyalty and ultimately trust," said Mike Nalley, BWI Sr. Manager of Education & Training. "Our partnership with IEHA helps take our training to the next level and demonstrates our continued commitment to leading the industry in customer care."
Qualified content reviewers will be engaged at each stage of the curriculum's development to ensure accuracy and relevance of the information, including public health leaders, consultants, environmental scientists, microbiologists, the Healthy Facilities Institute (HFI) and its advisory group.
The curriculum will be contained in an illustrated hands-on workbook and study guide for BWI DOHs to prepare them to take and pass a proctored exam resulting in HHH L1 Certification.
HHH L1 Certification Topics include:
Leadership and Management Principles and Practices – What's needed to lead and manage a Healthy Hotel Housekeeping (HHH) program;
Communication – An overview of the attitudes, skills, and knowledge needed to connect effectively, interpersonally, in groups, and in writing;
Planning & Organization – Providing the right tools for Healthy Hotel Housekeeping (HHH) planning and control tasks to lead and manage labor, budgets, and materials effectively;
Developing Staff - Will enhance understanding of staff potential and motivation coupled with practical work requirements and legal aspects to select, groom, grow, and help motivate teams;
Continually Improve – Will further develop management and technical skills, principles and processes for continuous improvement, systems-thinking, worker and quality growth, and benchmarking.
Specific Processes: Cleaning and Equipment for HHH
How to develop an effective process for a healthy housekeeping program;
How to select process- or system-compatible equipment types for HHH: e.g., floor machines, vacuum cleaners, dusting tools, more;
How to select and use system-compatible HHH cleaning solutions;
Review of cleaning processes and equipment for HHH.
About IEHA
IEHA is a 3,200-plus professional member organization for persons who direct cleaning, maintenance, housekeeping, grounds keeping, safety and/or indoor environmental programs in commercial, industrial or institutional facilities. The organization was founded in New York City in 1930, and is now located in Westerville, Ohio, a suburb of the State's capitol, Columbus. IEHA provides its members with an array of professional development, educational, certification and career opportunities. For more information, visit http://www.ieha.org.
About Best Western International, Inc. (BWI)
Best Western International, Inc., headquartered in Phoenix, Ariz., is a privately held hotel brand made up of more than 4,000* BEST WESTERN®, BEST WESTERN PLUS, BEST WESTERN PREMIER hotels in more than 100* countries and territories worldwide. Now celebrating 67 years of hospitality, Best Western welcomes hundreds of thousands of guests nightly. Best Western provides its hoteliers with global operational, sales, marketing and promotional support, and online and mobile booking capabilities. More than 20 million travelers are members of the brand's award-winning loyalty program Best Western Rewards®, one of the few programs in which members earn points that never expire and can be redeemed at any Best Western hotel worldwide. The brand's partnerships with AAA/CAA, race car driver Michael Waltrip, and Harley-Davidson® provide travelers with exciting ways to interact with the brand. In 2012, Best Western won a record number of awards, including AAA's Hotel Partner of the Year, CAA's Partner of the Year, TravelClick's eMarketer of the Year and Compuware's Best of the Web Gold awards. For more information, visit http://www.bestwestern.com. *Numbers are approximate and may fluctuate.