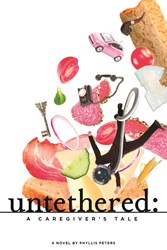 Its humor and irony aimed not at the care-given, but in praise of the caregiver.
Los Angeles, CA (PRWEB) September 09, 2013
Phyllis Peters, an author and educator, is on a mission to raise money toward Alzheimer's research. Peters is using proceeds from her novel, Untethered: A Caregiver's Tale, to aid in the efforts at eradicating this devastating disease. By collaborating with Alz.org, an organization Peters turned to as a caregiver herself, she seeks to support their research center, which has funded projects worldwide in the fight against dementia and Alzheimer's in excess of $300 million. Peters is donating 100 percent of the book's profits to the center.
Untethered: A Caregiver's Tale is an upmarket, comedic novel about a group underrepresented in humor: caregivers. "It's really about what happens to us internally when we bump into reality's wall, while simultaneously telling the story of the modern family at its funniest and most vulnerable—its humor and irony aimed not at the care-given, but in praise of the caregiver," Peters said.
Peters is launching her novel as an eBook in order to reach "as many people as possible, as immediately as possible." To cover some of the launch expenses, she turned to the crowdfunding site Indiegogo. Once involved in the process, she quickly realized the potential of the platform to allow her to do what she had been wanting to do all along—involve the book actively in the fight against Alzheimer's.
Peters holds degrees in music, literature, and education. As the daughter of a professional writer and newspaper editor, she has always been, as she comments, "in love with the word." Her fiction and nonfiction have appeared in magazines, literary journals, and online publications.
Buying her novel or contributing to the Indiegogo campaign will do more than provide readers with a good story. It will help save minds. And lives.
For more information, please visit the Untethered website at http://www.untetheredcaregiver.com. The site includes links to her Indiegogo campaign, which provides details on the book's direct involvement in raising money to support Alzheimer's research.
For interviews, contact: James Kinney, Kinney Group Creative- 323-570-2076 james(at)kinneygroupcreative(dot)com - http://www.kinneygroupcreative.com.