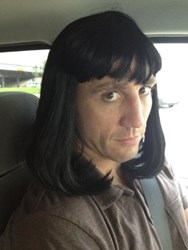 "Anyone who is familiar with our brand knows that Ranger Up has a mission and core principles that we derived from our time in the military," said Ranger Up CEO Nick Palmisciano. "However, that doesn't stop us from having a lot of fun."
Durham, NC (PRWEB) September 10, 2013
Ranger Up, a veteran-owned apparel company known for its clever and biting media productions, has added another award to the company's resume -- this time thanks to part owner Tim Kennedy's satirical rendition of Katy Perry's "Part of Me."
The award was for the "Best Humorous Short Video on a Military Theme" as part of the 2013 Mil-Humor Awards sponsored by popular military website, redbullrising.com.
Kennedy, a decorated Army Ranger and MMA fighter, wears a black wig and stars in the comedic music video that has garnered more than 180,000 views on YouTube. Perry's hit song "Part of Me," tells the story of a young woman driven to join the Marines after realizing her boyfriend had been cheating.
This isn't the first time Kennedy, who is a minority partner in Ranger Up, has been featured in videos produced by the apparel company. His videos have racked up millions of views online through Ranger Up productions along with the company's blog, Rhino Den.
"Anyone who is familiar with our brand knows that Ranger Up has a mission and core principles that we derived from our time in the military," said Ranger Up CEO Nick Palmisciano. "However, that doesn't stop us from having a lot of fun."
Ranger Up's success in creating viral online media has led to an intensely loyal social following that includes more than 186,000 Facebook followers and almost four million views on YouTube. In recent months, Ranger Up released its first full length episode of its acclaimed cartoon "The Damn Few."
See the award winning video here: http://www.youtube.com/watch?v=Whv19-XdAZE
Ranger Up was founded in 2006 and is based in Durham, North Carolina. For more information, visit http://www.rangerup.com. Follow Ranger Up on facebook at http://www.facebook.com/rangerupfanpage
On twitter @Ranger_Up