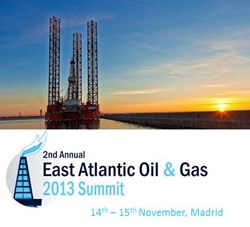 It's an IRN Summit!
Madrid, Spain (PRWEB UK) 10 September 2013
A list of companies are already seeking for approval to gauge the petroleum prospects in Spain and the 2nd East Atlantic Oil & Gas 2013 Summit, organised by the global summits organiser IRN, will address the growing exploration activities and new business opportunities in Spain as well as in Morocco, Mauritania, Portugal and France.
The Summit will take place on 14th-15th November in Madrid, Spain with Mr. Karl Teviotdale, the general manager of Leni Gas & Oil, Ms. Milagros Avedillo, the deputy director of dydrocarbons of the National Energy Commission of Spain, Mr. Juan Carlos Muñoz-Conde, the corporate general manager of Bnk Espana and Mr. Antonio Martín, the general Director of Cairn Energy, being just a few of the key players that will give insights on the oil and gas explorations in Spain.
A detailed overview of the characteristics of the Spanish oil and gas market will be given to the audience while some of the topics that will be specifically covered, being; Analysis of domestic oil and gas production and consumption, the current exploration licenses and the active fields of the region, upcoming projects and investment opportunities within the region; Spain's shale potential in the northern region of Cantabria; latest 3D seismic survey of conventional gas in the Northern Spanish Region, Rioja; presenting the new onshore exploration licenses Aquiles and Cronos Spain that have been awarded by the Spanish Council of Ministers; a description of Spain's gas supply infrastructure and prospects of improving Spanish gas system; an overview of the Cadiz province of southern Spain as an on-shore gas field.
More information on the whole agenda of the 2nd East Atlantic Oil & Gas 2013 Summit can be found online at http://www.eastatlanticsummit.com.