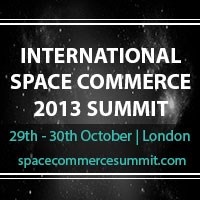 It's an IRN Summit!
London (PRWEB UK) 10 September 2013
The International Space Commerce 2013 Summit, officially endorsed by the European Space Agency (ESA), will take place on 29th-30th October in London with the Director of Growth, Applications and EU Programmes at the UK Space Agency, Ms. Catherine Mealing-Jones being amongst the key speakers of the event.
Mr. Nazzoreno Mandolesi, president e-GEOS and member of the board at the Italian Space Agency (ASI), one of the most significant agencies in the world in space science, satellite technologies and the development of mobile systems for exploring the Universe will also be speaking at the International Space Commerce 2013 Summit along with Mr. Patrick Wood, the Chief Operating Officer at Astrium Satellites, the company that is number one in the European and third in the worldwide space industry.
The ISC2013 Summit will be an ideal networking platform where businesses from around the globe will meet to form new business relations or extend existing partnerships in the scope of space technology and applications, satellites and infrastructure, human spaceflight and infrastructure, finance, legalities and finance.
A distinguished panel of experts will be speaking at the ISC2013 offering insights on aspiring projects with speakers including: Daniel Rasky, Director and Co-Founder of the Space Portal at the Nasa Ames Research Center, Alan Brunstrom, Head of Applications Business office at ESA, Rick Tumlinson, Chairman of the Board of Deep Space Industries, Matt Perkins, CEO of Surrey Satellite Technology Ltd., Gerd Gruppe, Member of the Board at the German Aerospace Centre (DLR), Bas Lansdorp, Founder and CEO of Mars One, Karin Nilsdotter, CEO at Spaceport Sweden, Barry Matsumori, Senior Vice President - Commercial Sales & Business Development at SpaceX, Chad Anderson, Managing Director of European Operations at Space Angels Network and many more others.
The full list of speakers and topics covered can be found on the website, http://www.spacecommercesummit.com.