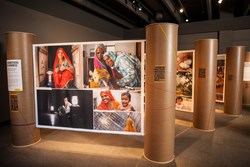 At every turn, there is an element of surprise that allows you to immerse yourself further into the stories and the overall message about these amazing women.
Denver, Colorado (PRWEB) September 17, 2013
For many of us, the word "grandmother" conjures up images of rocking chairs, cookies or needlework. Grandmother Power, an exhibit opening on September 6th at the Grand Rapids Public Museum, is likely to turn these traditional notions on their heads.
Based on the book Grandmother Power: A Global Phenomenon, by photojournalist and author Paola Gianturco, and designed by Denver-based brand agency Genesis Inc., the exhibit is a visual narrative highlighting the work of grandmother groups fighting for political, economic and social justice in places like Argentina, the United States, India and Senegal. And while these activist grannies are working on separate issues in distant parts of the world, they all have a common goal: providing a better future for their grandchildren.
"We challenged the design team to take a fresh approach to showcase Paola's photographs, and bring this exhibit to life in an engaging, exciting way. Rather than displaying the photographs in a traditional manner, they were printed at large scale on woven surfaces. The storytelling has many layers that the viewer can immerse themselves in – including the imagery, the stories themselves, the impact the grandmothers have made – and even global facts that give the overarching topics a greater level of relevance," explained Georgia Everse, partner at Genesis Inc.
This collaborative project was developed by a team that drew from the agency's Denver, Grand Rapids and San Francisco offices. Adanta Arietta, creative lead for the project, stated, "The entire installation is constructed of humble, yet sturdy materials, like cardboard pillars, modular rocking chairs and fabric pop-up walls that have a grass-roots quality and suggest resourcefulness. At every turn, there is an element of surprise that allows you to immerse yourself further into the stories and the overall message about these amazing women."
Gianturco's editorial photographs serve as a backdrop to her stories about these remarkable women, eight of which are showcased in this exhibit. A digital component will allow visitors to share personal stories about their own grandmothers.
Kate Moore, Director of Marketing and Public Relations at the Grand Rapids Public Museum explained that the design of the exhibit is a study in balance. "On one hand, this exhibit is a window to the world. On the other hand, it feels very intimate, and it allows us the opportunity to bring some of these worldwide issues into the context of our local communities and our own grandmothers. Through the design of this exhibit, Genesis managed to make these global stories relevant on a personal level."
All elements of the exhibit have been designed with flexibility and mobility in mind, to allow the displays to be transported easily and to be shown in a variety of spaces. Grandmother Power will be at the Grand Rapids Public Museum through February 2, 2014, with plans for it to travel internationally after that time.
Genesis also developed the marketing campaign for the exhibit, which pairs traditional grandmother imagery with unexpected messaging. Print and radio ads, banner displays and merchandising are all part of the campaign, which carries through the message that grandmothers can be a powerful force.
###
About Genesis, Inc.
Since 1967, Genesis has successfully positioned ideas, messages, products, services, destinations and brands for hundreds of clients of all sizes, across a wide variety of industries and global markets. Genesis specializes in ideas and implementation, with capabilities ranging from new concept development to successful market realization. Most recently, Genesis has developed work for women's brands and products that inspire and empower women.
Genesis Inc. is the Grand Rapids Public Museum's strategic and creative partner for brand and marketing efforts, and led the concept development, creative development and design of the Grandmother Power exhibition. http://www.genesisinc.com
Grand Rapids Public Museum
The Grand Rapids Public Museum, accredited by the American Alliance of Museums, is located in downtown Grand Rapids, MI at 272 Pearl Street, NW. The mission of the museum is to be a living monument of artifacts, ideas and stories told through exhibitions, events and educational programming designed to inspire, motivate and celebrate our human bond. We enrich the life of our community through experiences of the wider world in a uniquely Grand Rapids context. For additional information including hours of operation, admission fees and exhibit/event listings, please visit http://www.grmuseum.org.
Paola Gianturco, Author
For the past 16 years, Paola Gianturco has worked as a photojournalist, documenting women's lives in 55 countries. powerHouse books has published five of her acclaimed photographic books. All are philanthropic projects, for which she donates her royalties to carefully selected non-profit organizations that relate to each book's content.
Paola's fifth book, Grandmother Power: A Global Phenomenon reveals a new international activist grandmother movement. The book features 120 activist grandmothers on five continents who are fighting courageously and effectively - against poverty, disease, illiteracy, environmental degradation and human rights abuse – to create a better world for grandchildren everywhere. Gianturco is giving 100% of her author royalties from this book to the Grandmothers Campaign of the Stephen Lewis Foundations, which benefits grandmothers raising AIDS orphans in 15 African countries.
Grandmother Power won the 2013 About.com Reader's Choice Award for Favorite Grand Parenting Book, and the 2013 International Book Award for Multicultural Nonfiction.
Paola's photographs have appeared in Marie Claire, Essence Magazine, The New York Times, Wall Street Journal, Business Week, San Francisco Chronicle, Chicago Tribune, Christian Science Monitor, and the Washington Post, among others. Paola has been a guest on The Oprah Winfrey Show, CNN, NPR, and Voice of America programs, as well as many other television and radio programs across the country and around the world.
Her work has been exhibited by the United Nations – New York; UNESCO Paris, The U.S. Senate Russell Rotunda; The Field Museum, Chicago; The Smithsonian Folklife Festival, Washington D.C., the International Museum of Women, the Museum of the African Diaspora, San Francisco, and the San Jose Museum of Art, among others.
Paola co-developed and taught Executive Institutes on Women and Leadership at Stanford University, and served on the Board of the Association for Women's Rights in Development (AWID). She was a principal in the first women-owned advertising agency in the United States and is a current member of International Women's Forum.
Learn more about Paola's work at http://globalgrandmotherpower.com.