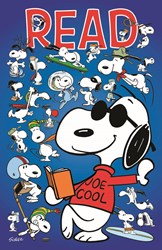 "My husband, Sparky, was a huge supporter of reading, literacy and libraries," says Jeannie Schulz, widow of Peanuts creator Charles M. Schulz.
New York, NY (PRWEB) September 10, 2013
Charles Schulz once said, "Happiness is having your own library card." So in a pairing that is as natural as Charlie Brown and Snoopy, Peanuts and the American Library Association (ALA) are joining forces to encourage everyone to READ.
Throughout September—which the ALA has proclaimed "Library Card Sign-up Month"—participating schools and public libraries across the country will present a variety of Peanuts-themed materials designed to promote literacy and reading. These include a whimsical new READ poster featuring Snoopy, dressed as Joe Cool, front and center reading a book while smaller versions of Snoopy in various other personas dance around him on the page. The headline says: "READ—There's an adventure on every page!"
Also included are reward stickers for young readers, two bookmarks, and for the first time ever, a Peanuts comic book, entitled Snoopy Cowabunga, which has recently been added to the Comics for Kids program created by publisher Andrews McMeel (AM). As part of the READ campaign, AM creates companion reading/teaching guides that help parents, librarians, and educators teach with comics and illustrated novels—a relatively new classroom concept that has been recognized and embraced as an effective teaching tool. Snoopy Cowabunga features a collection of Peanuts strips that focus on Snoopy's adventures and his hilarious interactions with the kids in Charlie Brown's gang.
"My husband, Sparky, was a huge supporter of reading, literacy and libraries," says Jeannie Schulz, widow of Peanuts creator Charles M. Schulz. "He would be thrilled to know that Snoopy—who is the master of adventure, after all!—is helping introduce children and adults to the greatest adventure: reading."
To further mark the occasion, Jeannie Schulz has recruited her resident Vine animator Khoa Phan to create a special six-second Peanuts READ video using the Vine app. The video will debut this week on @Snoopy.
"Reading and communication take many forms, of course, and Twitter and Vine are amazing new tools for getting across important and artistic and thought-provoking messages," adds Jeannie Schulz. "We're excited to be using these new 'languages' to share our READ campaign with new generations of Peanuts fans."
About Peanuts Worldwide
The PEANUTS characters and related intellectual property are owned by Peanuts Worldwide LLC, a joint venture owned 80% by Iconix Brand Group, Inc. and 20% by members of the Charles M. Schulz family. Iconix Brand Group, Inc. owns, licenses and markets a growing portfolio of consumer brands including: CANDIE'S (R), BONGO (R), BADGLEY MISCHKA (R), JOE BOXER (R), RAMPAGE (R), MUDD (R), MOSSIMO (R), LONDON FOG (R), OCEAN PACIFIC (R), DANSKIN (R), ROCAWEAR (R), CANNON (R), ROYAL VELVET (R), FIELDCREST (R), CHARISMA (R), STARTER (R), WAVERLY (R), ZOO YORK (R), ED HARDY (R), SHARPER IMAGE (R), UMBRO (R), LEE COOPER (R), ECKO (R), and MARC ECKO (R). In addition, Iconix owns interests in the ARTFUL DODGER (R), MATERIAL GIRL (R), PEANUTS (R), TRUTH OR DARE (R), BILLIONAIRE BOYS CLUB (R), ICE CREAM (R), MODERN AMUSEMENT (R), and BUFFALO (R) brands. The Company licenses its brands to a network of leading retailers and manufacturers that touch every major segment of retail distribution from the luxury market to the mass market in both the U.S. and worldwide. Through its in-house business development, merchandising, advertising and public relations departments Iconix manages its brands to drive greater consumer awareness and equity.
# # #