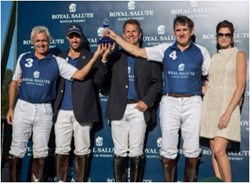 Facundo commented on his team's victory, 'The polo and the event were of the highest caliber- on behalf of all the players our thanks to Royal Salute for championing it.'
Greenwich, CT, USA (PRWEB) September 09, 2013
Supermodel Stephanie Seymour presented Peter Brant, player on the winning Royal Salute team and founder of Greenwich Polo Club, with the Royal Salute Jubilee Cup trophy - a handmade, Waterford Crystal Lismore Cobalt Decanter generously donated by Waterford Crystal. In addition, the players of both teams were awarded specially engraved Waterford Crystal Lismore Cobalt tumblers, by Michael McLaren of Royal Salute.
As players raised their glasses in celebration of the occasion, Facundo commented on his team's victory: "This match, which marked the closing of the polo season in Greenwich, was electrifying to play. It was high-goal polo at its best - in the last four and a half minutes of the final chukker, Airstream added an incredible 5 goals, making them tough to beat, but Royal Salute held on to our lead to win. The polo and the event were of the highest caliber - on behalf of all the players our thanks to Royal Salute for championing it."
Esquire's Matthew Kitchen presented Steve Lefkowitz, polo patron and player on the winning Royal Salute team, with the bespoke Royal Salute MVP Jacket, created by Norton & Sons. Avril Graham of Bazaar presented the Cartier individual winning player prizes. Leighton Jordan, Managing Director of the Greenwich Polo Club presented the Best Playing Pony blanket to Facundo Pieres for his mare which played in the final chukker.
Malcolm Borwick, England polo team player and Royal Salute Ambassador, who was a guest commentator at the match said, "It was great to be back at Greenwich today, having captained Prince Harry's team at the Sentebale Royal Salute Polo Cup back in May. Royal Salute's continued presence in the polo world is based on the shared values that the sport and the brand holds, and we look forward to next year's edition already."
The United States Polo Association's CEO Peter Rizzo added, "We are excited to culminate the Northeastern U.S. high-goal polo season with this special event that showcased the athleticism of these talented players and their horses. Congratulations to Royal Salute victors, and to Greenwich Polo Club for hosting another successful signature event."
ENDS
Note to Editors
Event Details: Held at Greenwich Polo Club, North Street, Greenwich 06831,CT USA
About Royal Salute
Royal Salute is the world's leading luxury Scotch whisky, and begins where others end as only whiskies matured for at least 21 years are ever selected for Royal Salute blends. In 2012, Royal Salute became the first ever brand to be officially associated with the Royal Gun Salutes at the Tower of London, as part of a long-term partnership with the independent charity Historic Royal Palaces.
Royal Salute is a leading international supporter of polo, 'the king of sports and the sport of kings'. Royal Salute World Polo is truly international with a presence in every major region globally:

Argentina Campeonado Abierto de Polo, Palermo, Buenos Aires
Australia Sydney Gold Cup, Sydney and Portsea Polo, Victoria
Brazil Sentebale Royal Salute Polo Cup, São Paulo and Copa Ouro São José Polo, São Paulo
China Royal Salute China Open, Beijing
India Royal Salute Maharaja of Jodhpur Golden Jubilee Cup, Jodphur
Italy Polo Gold Cup, Cortina d' Ampezzo
South Korea Royal Salute Polo Cup, Jeju
Snow Polo, Baqueira, Lérida and Sotogrande, Cádiz
UAE Royal Salute Nations Cup, Dubai
USA Foundation Polo Challenge, Santa Barbara and Royal Salute Jubilee Cup, Greenwich, Connecticut
UK The Sentebale Polo Cup, Coworth Park, Kent & Curwen Polo Club, London; and
Beaufort Polo Cup, Tetbury
About Chivas Brothers
Chivas Brothers is the Scotch whisky and premium gin business of Pernod Ricard – the world's co-leader in wine and spirits. Chivas Brothers is the global leader in luxury Scotch whisky with a portfolio that includes Chivas Regal, Ballantine's, Beefeater Gin, The Glenlivet, Royal Salute, Aberlour, Plymouth Gin, Longmorn, Scapa, 100 Pipers, Clan Campbell, Something Special and Passport. http://www.chivasbrothers.com/
About Greenwich Polo Club
Established in 1981 by Peter Brant, Greenwich Polo Club is the venue for high-goal polo in the Northeast. Nestled in the beautiful backcountry of Greenwich, CT and internationally recognized for its rosters of legendary teams and players, Greenwich Polo Club hosts public USPA high-goal polo matches on Sundays in June, July and September. http://www.greenwichpoloclub.com
About Waterford Crystal
Founded by William and George Penrose, Waterford was established in the heart of the Irish harbor town of Waterford in 1783. Today, Waterford is known worldwide for creating crystal and glass drink-ware, crystal gifts and home accessories of unsurpassed beauty and quality. http://www.waterford.com
About the USPA
Founded in 1890, the USPA is the National governing body for the sport of polo in the USA and Canada. With over 250 member clubs, the USPA is known for establishing rules, providing player handicaps and organizing tournaments around the US and Canada.
About Norton & Sons
Norton & Sons was established in 1821 by Walter Norton as tailors to the Gentlemen of the City of London. The firm gained eminence as a sporting tailor, making sharply cut garments for rugged and robust outdoorsmen. Clients included King Edward VII, Wilfred Thesiger and the young Winston Churchill, for whom we made everything from dinner suits to racing silks.